RSPO Remediation and Compensation Procedure (RaCP)
RSPO Members are required to conduct a High Conservation Value (HCV) assessment of their holdings before any new land development (e.g. planting or infrastructure) takes place. This is to ensure that land areas under the control of RSPO growers that contain or support HCVs were not cleared for development after November 2005.
Non-compliant land clearance has still been taking place. This is mostly due to unfamiliarity with the RSPO Principles and Criteria (P&C), particularly HCV assessment requirements and procedures, or as a result of clearance by non-RSPO member growers, which were subsequently acquired by RSPO member organisations.
Rather than imposing immediate sanctions, including suspension or barring grower members from certification, RSPO has developed the Remediation and Compensation Procedure (RaCP). This provides a mechanism for the restoration of cleared HCV areas and, if applicable, the compensation of lost conservation values.
The RaCP applies globally for both certified and non-certified RSPO members. The procedure also applies in regions where RSPO is not yet active and to growers who may seek RSPO membership and/or apply for RSPO certification in the future.
Growers who disclose non-compliant land clearance will need to complete the RaCP before obtaining RSPO certification.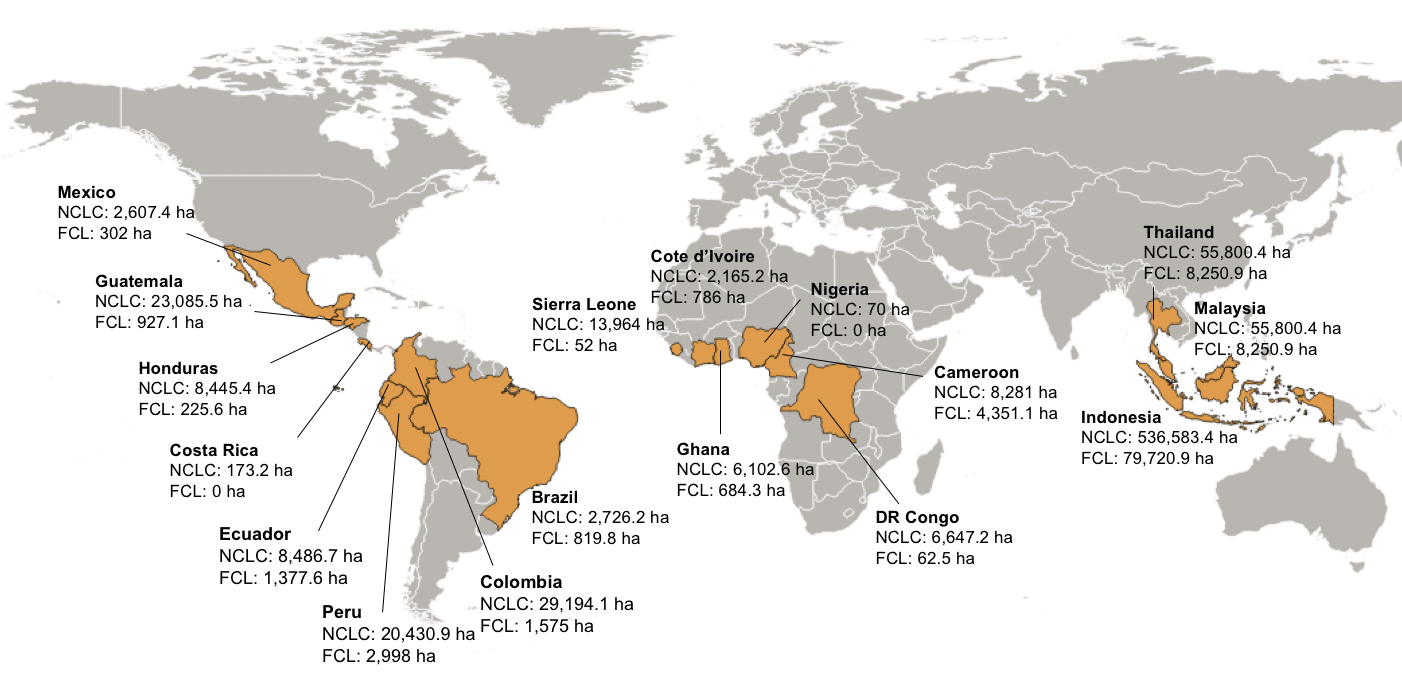 NCLC: Non-Compliant Land Clearance (strictly limited to land clearance by RSPO members since November 2005 without prior HCV assessment in reference to the RSPO Principles and Criteria)
FCL: Final Conservation Liability
RaCP at a glance
The procedure requires growers to first disclose any new land development that took place without conducting an HCV assessment. If there are non-compliant land clearings, the environmental liabilities will be calculated through a Land Use Change Analysis (LUCA). Once liabilities (both environmental and/or social) have been determined, and past planting within prohibited areas (e.g. riparian areas, steep slopes and peat) have been established, grower members have to carry out (i) on-site remediation for the affected sites, (ii) remediation with affected parties, and/or (iii) compensation conservation projects.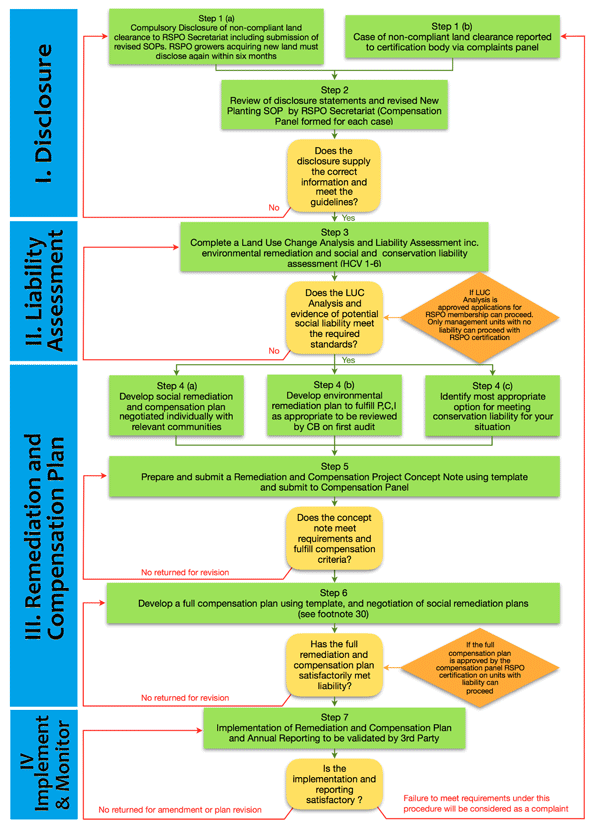 Notes:
A Compensation Panel will be assigned by the Co-chairs of the Biodiversity and High Conservation Values Working Group (BHCVWG) to each case, after the disclosure of non-compliant land clearance.

The panel is made up of four RSPO members from the BHCVWG, with a balanced representation of stakeholder and expertise appropriate to biodiversity conservation and social impacts, and one member of the RSPO Secretariat. The panel could be supported by extra capacity as needed, including non-RSPO members.

External evaluation process:

The LUCA will be reviewed and verified by external geographic information system (GIS) specialists.
Compensation plans will be evaluated by independent evaluators, who will support the Compensation Panel in providing feedback on the merits of the plan.
Guiding Principles of the RaCP
Compensation liabilities are determined through the use of a matrix, which combines vegetation coefficients as proxies for HCVs, the land clearance period, membership status and areas requiring environmental remediation. The final compensation liability is expressed in hectares.

Early cases of land clearance without HCV assessments carry less compensation liability than more recent cases.
The procedure distinguishes between non-compliant clearance carried out over the following time periods:

November 2005 to November 2007 (trial period for the implementation of the RSPO Principles and Criteria – 2007)
November 2007 to 31 December 2009 (first RSPO member was certified)
1 January 2010 to 9 May 2014 (RSPO New Planting Procedure was introduced)
9 May 2014 (RaCP was introduced)

Non-compliant land clearance by RSPO members after November 2007 carries higher compensation liabilities. Any land clearance after 9 May 2014 by RSPO members may result in expulsion.

Recognising that companies cannot be held responsible for land clearance after 2005 in areas where the company had no management control at the time, RSPO encourages its members to practice due diligence when acquiring land for oil palm expansion. The RaCP, therefore, distinguishes between corporate and non-corporate land clearance, whereby growers are not required to compensate for land clearance that can be demonstrated to be non-corporate land clearing.
Corporate land clearance is any land cleared for plantations, or facilities built directly and exclusively to support plantations and their activities (as demonstrated by local master plans and/or other official documentation).
Non-corporate land clearance includes clearance for other purposes, including government projects that involve public works or other public interest facilities, or by members of local communities acting individually to support their livelihoods and with no funding by any institution and/or organisation.
Resources
The full RaCP requirements and other related documents are available here.
Statistics
Updated: November 2019
Figures are collated from companies with disclosed liabilities who have submitted LUCAs.

Land cover change from 2005 in areas developed without prior HCV assessment (by vegetation coefficient)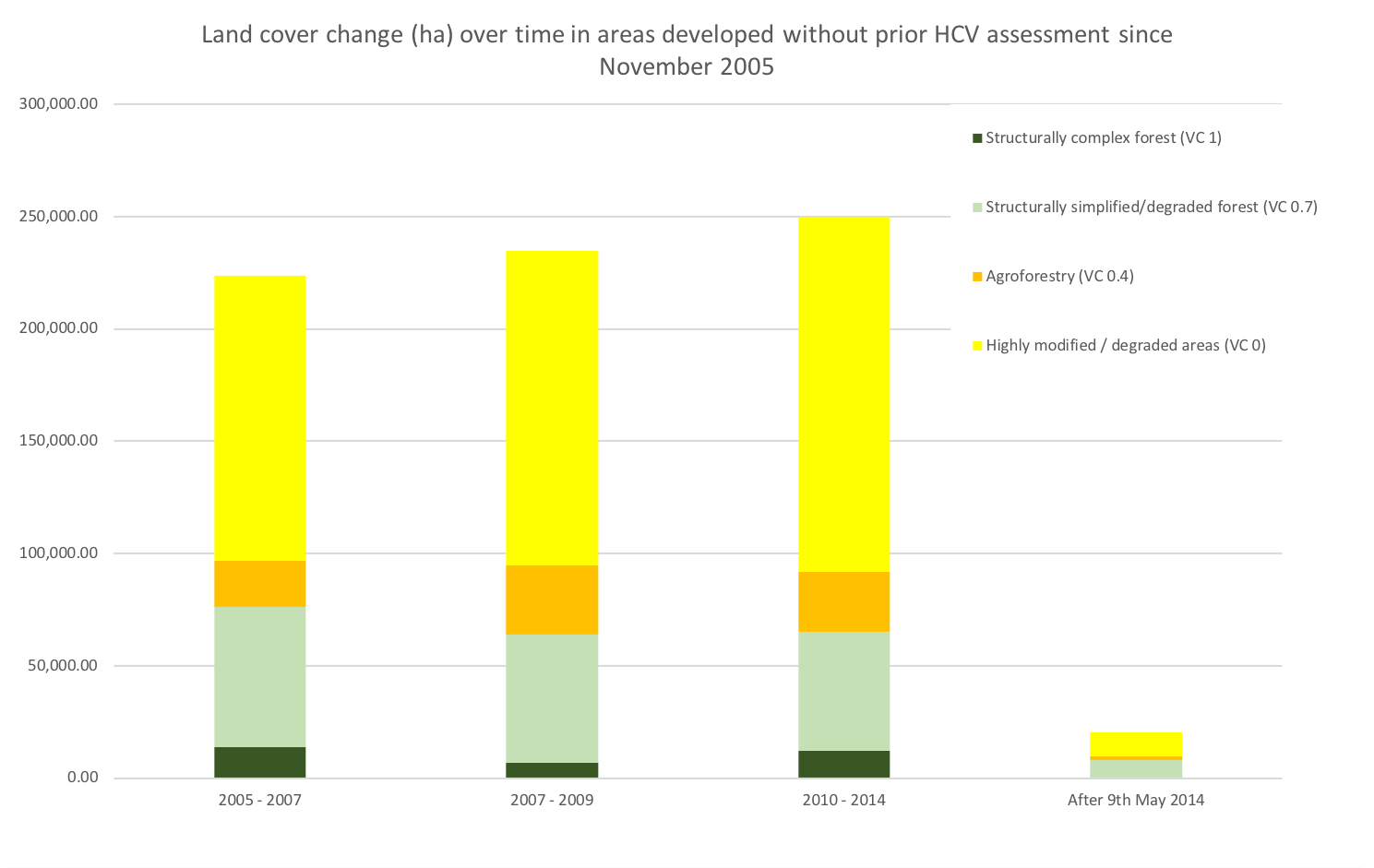 The bar graphs and the table summarize the land cover change during the development of land areas from November 2005 without prior HCV assessment.
The bulk of non-compliant clearance involved degraded or highly degraded vegetation (e.g. open grassland and scrub) and existing agroforestry plantations
Less than 4% of land cleared without HCV assessments involved the loss of high-quality forest.
The figures shown represent total land clearance on land owned (including land areas acquired from RSPO non-members), and / or managed by RSPO members. Further analyses, currently underway, will differentiate land clearance by RSPO members and non-members.
Trackers
The RaCP independent smallholder and grower trackers list the potential liabilities of RSPO grower members and the stages of the RaCP that the management units are currently undergoing. The information for the various management units are aggregated by their respective group membership.
Note: Independent Smallholders are currently under reprieve from compensation.
Disclaimer: The RaCP tracker is being upgraded and is currently in the BETA testing phase. Please contact us at [email protected] if you have any queries or feedback.