Dispute Settlement Facility (DSF)
The RSPO Complaints System enables stakeholders to address complaints against an RSPO Member who has allegedly breached the RSPO Principles and Criteria (P&C), Code of Conduct, or other key documents.
The Dispute Settlement Facility (DSF) is a part of the RSPO Complaints System. It offers complainants, RSPO Members, and relevant stakeholders who are involved in a complaint, the opportunity to resolve these matters through mutually agreed terms, with the help of DSF Mediation.
DSF Mediation requires parties to mutually agree on an independent mediator to facilitate negotiations in a structured process.
The process of DSF Mediation
Voluntary participation
DSF Mediation can only be accessed if both disputing parties mutually agree to engage in the process.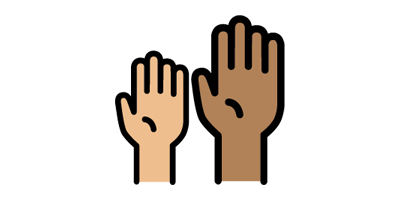 Confidential

No information shared during the mediation process will be disclosed without the consent of all parties.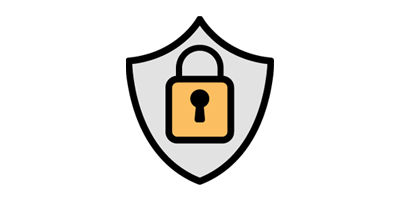 Independent and impartial
The decision-making authority rests entirely with the parties. DSF Mediation does not impose any judgement or decision on either party.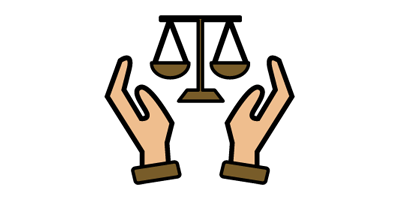 DSF Mediation Process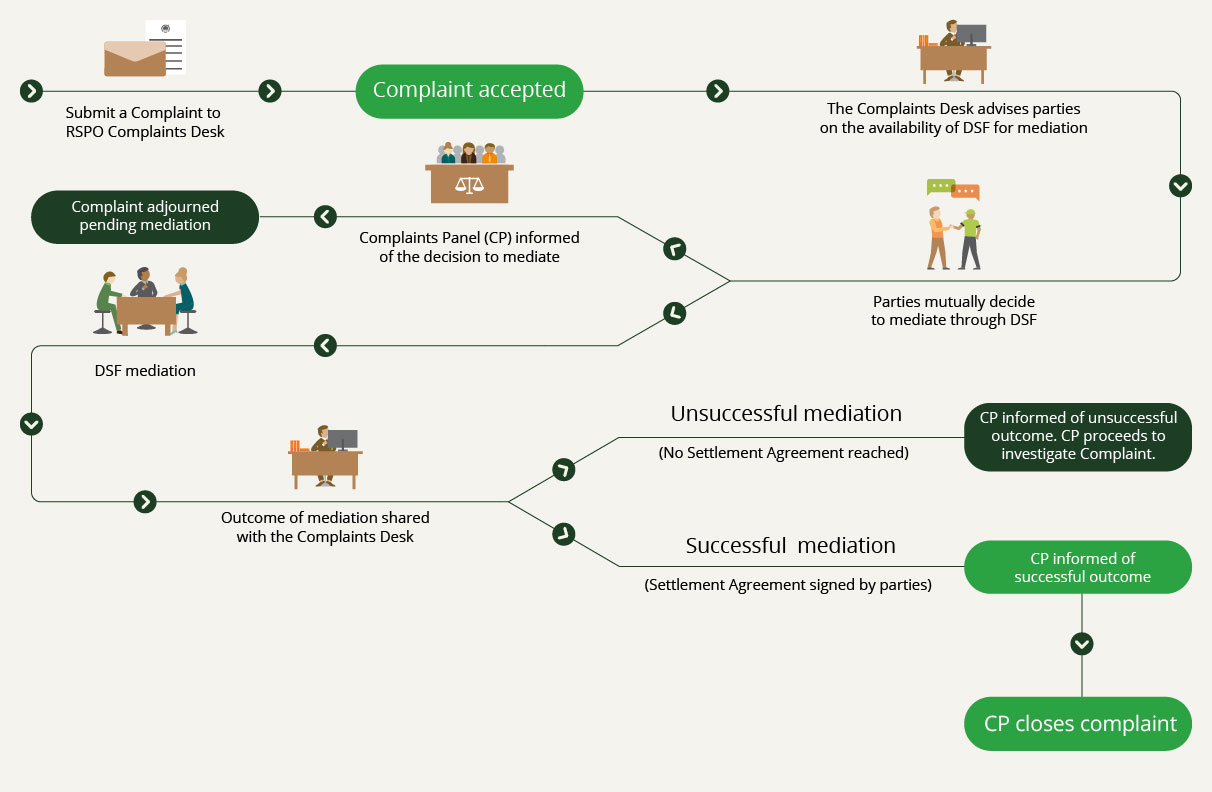 If funds are needed for mediation
Parties without sufficient funds may put in a request to the Secretariat for financial assistance to participate in the mediation process.
Financial assistance may include, but is not limited to, covering the fees of the appointed mediators/technical experts and related costs on behalf of the parties.
The primary aim of the financial assistance is to ensure that parties are able to co-own the mediation process.
DSF Advisers
DSF is supported by a group of Advisers with practice and experience within local communities, civil society, the palm oil industry, and dispute resolution forums. This will contribute to open discussions and enquiries on the DSF's continuous process of evaluating insights and lessons learned on trends emerging in the context of disputes within the palm oil industry.
The appointment of Advisers is stipulated in clause 12 of the ToR for DSF Group of Advisers. The DSF advisers are required to recuse themselves from any potential Conflict of Interest (COI) and the DSF Advisers cannot be directly involved in a DSF Mediation case.
While acknowledging the Advisers' valued support and guidance to the DSF, responsibility and authority in terms of oversight or administration of a DSF case rests with the DSF Office within the RSPO Secretariat, which extends to the appointment of DSF Mediators. Specifically, and in line with DSF Principles relating to Confidentiality, DSF Advisers will not engage with any party or stakeholder during the course of a DSF Mediation, nor are they party to any information relating to individual cases handled by the DSF which is not otherwise in the public domain.
To learn more, please read the RSPO DSF Advisers Terms of Reference.
Paul Wolvekamp joined Both ENDS in 1989 and is currently its Senior Policy Adviser. He is vice-chairman of the Asia based NFTP (non-timber forest products) Exchange Programme, and a member of the Dutch Advisory Commission on Sustainable Biomass.
He served in various advisory capacities, e.g. on CIFOR's certification research programme, and undertook assignments for private foundations, Dutch government and European Commission, including the development of an Indian-Dutch Environmental Fund. This evaluated the European Commission's contribution to dry land management and the 'Africa Regreening Initiative'.
He initiated and moderated the RSPO Dispute Settlement Facility working group. Paul obtained his BA in law, MA political sciences and diploma in environmental sciences at Leyden University.
Throughout her academic career, sustainable development has always been an area of interest for Dr. Varkkey. Her passion and support towards this topic are demonstrated by her focus on transboundary pollution in Southeast Asia. Dr Varkkey is particularly interested in the role of patronage in agribusiness, especially the palm oil industry, and its link to forest fires and haze in the region. In 2016, her findings were published in a book, The Haze Problem in Southeast Asia: Palm Oil and Patronage, which was a part of the Routledge Malaysian Studies Series. Additionally, her commentaries on sustainable development and haze issues have also been published in The Straits Times Singapore and CNN Online, among others.
Practicing Colombian lawyer with vast experience in the areas of Corporate Law, Private International Law, Mediation and Peaceful Settlement of Disputes. Legal and business international consultant for the Asia-Pacific & Europe regions through the firm 8 LEGAL; Arbitrator and Conciliator at law; Member of the arbitration panels of Bogota and Medellin (Colombia) Chambers of Commerce arbitration centres and China International Economic and Trade Arbitration Commission CIETAC (China) with extensive experience as a facilitator and conflict manager in the search of peaceful solutions for controversies arising out of commercial and private law relations. Researcher and professor in the areas of negotiation and international mediation. Speaker and judge in several international mediation tournaments.
Dr. Piers Gillespie has worked across the private, academic and NGO sector in the field of business strategy, facilitation and implementation. In the mid-2000s, Piers was Asia Pacific Manager for an international NGO that focuses on the agricultural sector and delivering sustainability through international supply chains. He has advised the International Finance Corporation (IFC) and United Nations Development Programme on palm oil implementation and agri business matters and consults with both plantation companies and Futureye, a consultancy that focuses on social licence to operate for extractive and plantation companies. Piers currently works at the Department for Energy and Mining in South Australia as the Executive Lead, Social and Community.
Gina Barbieri, a South African human rights lawyer, international mediator and dispute resolution professional, was appointed as the first Ombudsperson for the World Wildlife Fund (WWF) network in 2021. Previously, she managed the World Bank Groups' private sector mediation unit (CAO) which entailed managing the mediation of complex environmental and social disputes between communities and the private sector across the globe. Before joining the CAO, Gina founded and managed a legal practice in South Africa specialising in mediation and other forms of alternative dispute resolution (ADR). She has mediated numerous disputes in the employment, commercial and community arena and is the author of two books on labour practice in the public and private sector. Gina co-authored and edited two IFC publications on the establishment of ADR Centers in emerging markets and guidelines on the practice of ADR. Gina obtained her BComm LLB from the University of KwaZulu-Natal and is a CEDR (UK) and IMI accredited international mediator.
DSF Mediators
In appointing a Mediator to manage the DSF Mediation, DSF will draw on its global network of pre-qualified mediators, experienced in managing multi-stakeholder disputes. DSF mediators work in accordance with the DSF Mediator Code of Professional Conduct and report to a DSF Case Manager who coordinates finances, contracting and reporting and provides technical as well as logistical support to the Mediator.
Where possible, DSF will select a Mediator with the requisite professional and language skills from the country or region where the case is located. If such a Mediator is not available, DSF will select whomever is believed to be the most suitable while taking into consideration the location and context of the particular case.
The DSF Mediator is a de facto process manager who will utilise and match a range of techniques when working with divergent groups and parties to a dispute which may include facilitation, information sharing, joining fact-finding, consensus building, capacity building and mediation.
Fahmi Shahab is the Executive Director of the Pusat Mediasi Nasional – Indonesian Mediation Centre (PMN) — a professional and independent institution providing mediation and certified mediation training courses and one of the most senior training providers accredited by the Indonesian Supreme Court, based in Jakarta. He has been a facilitative mediator since 2000, assisting parties in getting deals on debt restructuring, shareholder disputes, and other business disputes. He is also empanelled as a mediator with PMN, first-instance courts, LAPS SJK [Alternative Dispute Resolution (ADR) for Financial Services Sector Dispute], the Roundtable on Sustainable Palm Oil (RSPO) and the Asia Pacific Centre for Arbitration and Mediation(APCAM), where he also serves as Secretary General. Fahmi also serves as Ambassador of the Singapore International Mediation Centre (SIMC).
Fahmi has served in various roles including as Chairman of the Asian Mediation Association (AMA), Consultant in Enhancing Democracy and Citizens' Trust in Governance: Adopting a Fair Treatment Approach in Indonesia's Ombudsman Offices (PMN-Vrije Universiteit Amsterdam-Dutch National Ombudsman-Centre for Conflict Resolution-Van Vollenhoven Institute: consortium); Senior Short-Term Expert in EU-Indonesia Trade Cooperation Facility; Technical Assistant on Alternative Disputes Resolution to the Indonesia Investment Coordinating Board (BKPM) and Visiting Fellow at Gakushuin University, Tokyo, Japan.
Fahmi holds a Master of Business Law (MBL) from the University of Sydney, Australia as an AusAID-ADS scholarship recipient, and a Bachelor's Degree in Economics (SE) from Gadjah Mada University, Indonesia.
Hyang I. Mihardja, S.H., MBA., has over 18 years of professional experience that includes leadership positions in national private companies. Since being certified by the Indonesia Mediation Centre in 2004, she has consistently promoted negotiation and mediation as an appropriate dispute resolution method. She started her career in Alternative Dispute Resolution as a collaborative lawyer, following as a negotiator and mediation practitioner in contractual issues.
She provides expertise in managing cases related to labour issues. She has been involved in mediating several negotiations in public disputes between companies, government, stakeholders and community's organisations, some of which were related to Corporate Social Responsibility (CSR) issues.
Hyang is a Co-founder of the EYR Centre for Legal Studies, and is recognised as an expert on conflict resolution at the national organisation Maritim Muda Nusantara. She is a representative of the Pusat Mediasi Nasional – Indonesian Mediation Centre (PMN), a Board Member of the Asia Pacific Centre for Arbitration and Mediation (APCAM).
She is active as a trainer and a coach at PMN, Justitia Training, and MedArbid (Indonesian Academy of Independent Mediators and Arbitrators). Her competency has been recognised by the national standard BNSP and is accredited by the Supreme Court of the Republic of Indonesia.
Ben is a highly qualified mediator with a wide range of experience and expertise. He specialises in multi-party complex developmental and commercial mediations, and also provides training, change management, development facilitation, organisational transformation, community conflict management, environmental facilitation and workplace services.
Ben has successfully mediated settlements in large scale environmental conflicts, local government transformation processes, development disputes and land use and tenure matters in several countries. He is accredited by the National Mediator Accreditation System (NMAS) in Australia and is a professional member of the Australian Mediation Association and the Resolution Institute. He serves on the mediator panels of the Compliance Advisor Ombudsman (CAO), Independent Redress Mechanism (IRM) of the Green Climate Fund, Asian Development Bank (ADB) and Converge International. He is also trained and certified in Restorative Mediation Practice.
Ben's approach to every mediation is collaborative and principled, and he works with parties to find creative solutions that are workable and sustainable. His goal is to consistently assist parties in finding their own solutions that meet their needs within the given context.
Raymond Lee is a mediator and mediation instructor at the Pusat Mediasi Nasional – Indonesian Mediation Centre (PMN). Apart from mediating cases, he supports the centre's training that includes running courses for the Indonesian Supreme Court, Bank Indonesia, the Financial Services Authority, National Human Rights Commission, the Foreign Investment Board, the Election Supervisory Board, the Ministry of Women Empowerment and Child Protection and the public. He is also retained by the World Bank Group and the United Nations Global Mediator Panel as a mediator providing workplace dispute resolutions through mediation, facilitation, and training. He is a PMN-accredited mediator, a court-accredited Mediator in Indonesia, as well as a Centre for Effective Dispute Resolution (CEDR) accredited mediator.
Fluent in English and Indonesian languages, Raymond is known for his offbeat humour, and when not mediating, he writes for Indonesian film and television.