Benchmark Reports
Explore the analysis and gain insights into the performance of sustainable palm oil standards in the industry over the years by clicking on the independently conducted benchmarking reports below.
Year of publication
Link to RSPO Theory of Change (ToC) Impact Topic
Report Topic and Objective(s)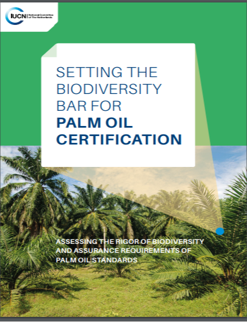 Setting the Biodiversity Bar for Palm Oil Certification
This report by the IUCN National Committee of the Netherlands was done to assess the rigor of biodiversity and assurance requirements of six sustainability palm oil certification standards.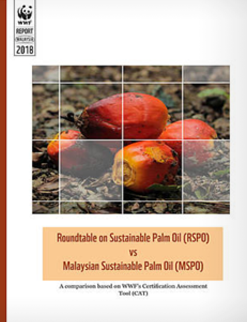 RSPO vs MSPO: A comparison based on WWF's Certification Assessment Tool (CAT)
This report by WWF-Malaysia was done to assess and compare two palm oil certification scheme which are of RSPO (as of 2016) and MSPO (as of May 2017) using a Certification Analysis Tool (CAT). The CAT is a formalised methodology developed by WWF to assess whether a certification scheme is equipped to achieve the best social and environmental impacts at scale.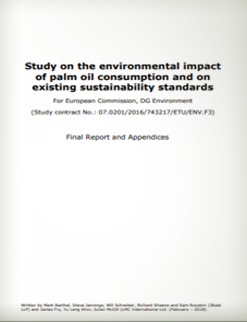 Study on the Environmental Impact of Palm Oil Consumption and on Existing Sustainability Standards
The study commissioned by the European Commission reviewed the environmental, social and economic aspects of palm oil production and consumption, and evaluated existing palm oil sustainability standards and schemes.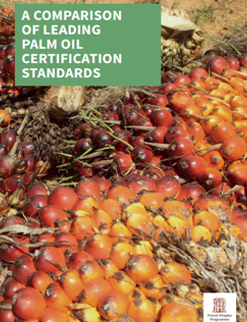 A Comparison of Leading Palm Oil Certification Standards
This study by the Forest Peoples Programme (FPP) was conducted to compare the world's principal oil palm sustainability standards (RSPO, ISCC, ISPO, MSPO, SAN, HCS and RSB) ,as of 2017, by measuring them against a comprehensive set of social and human rights indicators.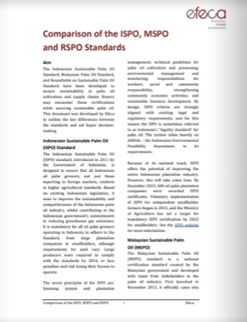 Comparison of the ISPO, MSPO and RSPO Standards
Published in early 2016, Efeca developed this document to compare three palm oil standards as part of their work for the Central Point of Expertise on Timber to help organisations source for sustainable palm oil.