In 2018, RSPO Board of Governors (BoG) endorsed the RSPO Theory of Change (ToC) with the overall vision of making sustainable palm oil the norm.
In March 2019, the RSPO BoG subsequently endorsed the RSPO Governance Review for 'Reorganisation of Standing Committees, Task Forces and Working Groups', where the Smallholder Standing Committee was established.
Responsibilities
To oversee the execution of the RSPO Smallholder Strategy and for the RSPO Secretariat to lead the implementation of the planned activities;
To make decisions throughout the implementation of the Smallholder Strategy and to ensure that the guiding principles are respected in the decision making;
To form one (or more) Working Group(s) or Task Force(s) to be responsible for delivering a specific output of the Smallholder Strategy. These subgroups will report back to the SHSC and where appropriate, the Standing Committee will evaluate and decide on the recommendations of the working group(s);
To monitor the overall budget for the implementation of the Smallholder Strategy;
To report to the BoG on matters concerning smallholders.
Overview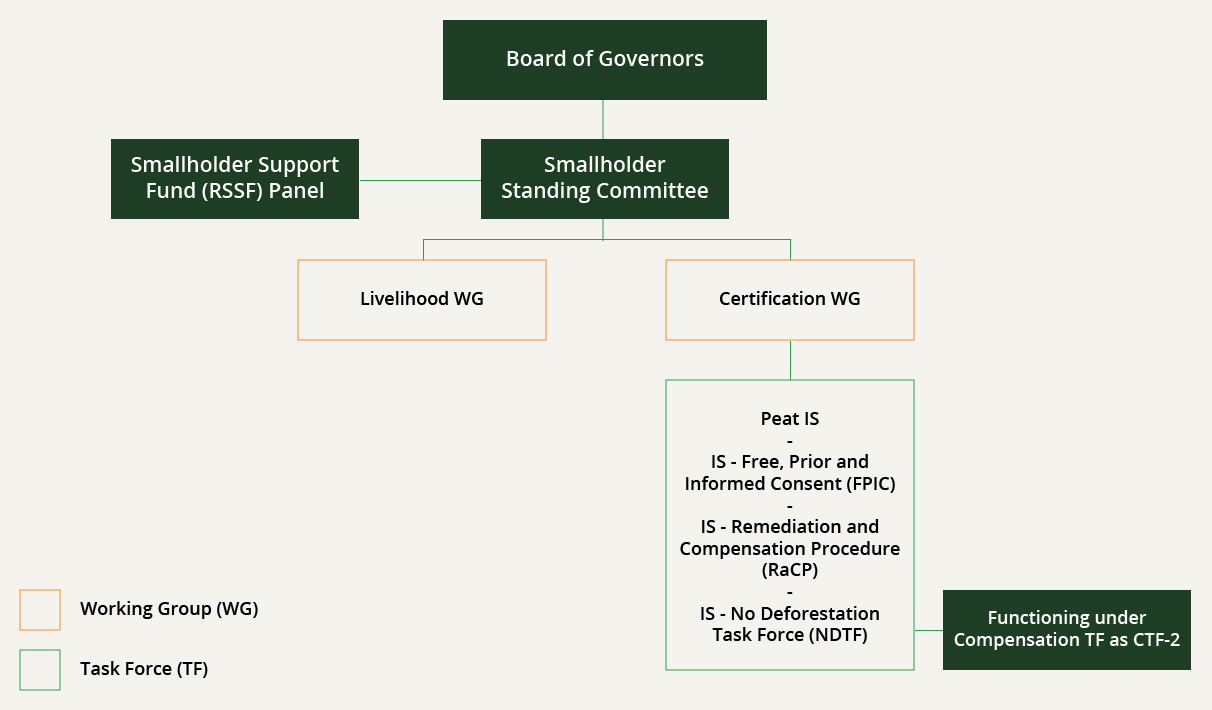 * final structure to be determined
Members (Substantive Members)
Name
Organisation
Membership Sector
Marieke Leegwater (Co-Chair)
Consumer Goods Manufacturer
Oil Palm Grower (Indonesia)
Narno bin Sayoto Irontiko
New Britain Palm Oil Limited (NBPOL)
Smallholder (Papua New Guinea)
Jorge Esteban Coronel Arias
Smallholder (Latin America)
HOFER KG dba. ALDI SOUTH Group
Zoological Society of London (ZSL)
World Wide Fund for Nature (WWF)
Bank / Financial Institution
Name
Organisation
Membership Sector
Consumer Goods Manufacturer
World Wide Fund for Nature (WWF)
Oil Palm Grower (Indonesia)
Name
Designation
Acting Head of Smallholder Unit / Smallholder Manager, Indonesia
Smallholder Manager, Livelihood
Smallholder Manager, Latin America
Smallholder Manager, Africa
Smallholder Manager, Thailand