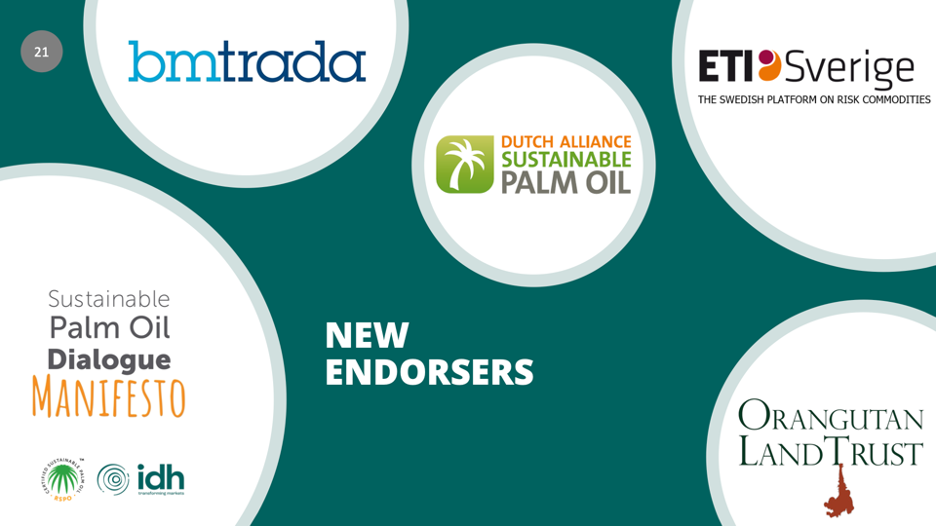 Following an in-depth thematic discussion on smallholders inclusion and landscape approaches,  four new endorsers of the SPOD Manifesto have been announced, calling for consumer goods manufacturers, retailers and wholesalers to strengthen responsible production and consumption of palm oil.
Four new organisations have endorsed the Sustainable Palm Oil Dialogue (SPOD) Manifesto, which was launched during the 4th European Sustainable Palm Oil Dialogue to call for consumer goods manufacturers, retailers and wholesalers to strengthen responsible production and consumption of palm oil. The four additional endorsers include BM Trada, the Dutch Alliance for Sustainable Palm Oil (DASPO), Eti Sverige (The Swedish Platform on Risk Commodities) and Orangutan Land Trust. They join  thirteen companies and organisations in the palm oil value chain who had previously endorsed the Manifesto in October 2022.
These new announcements  followed the interactive discussion held by RSPO and IDH on 24 January 2023 which attracted over 70 participants to closely examine two of the four calls to action of the Manifesto, which are closely interlinked: smallholder inclusion and landscape approaches. 
Edem Asimadu, RSPO Smallholder Manager (Africa), presented figures on the number of  RSPO smallholders and highlighted the importance of projects supporting smallholders through the  RSPO Smallholder Support Fund (RSSF) and sourcing programmes focused on increased uptake from smallholders.
"It is evident from the numbers that smallholders from every producing region are critical stakeholders in the palm oil value chain and for that, no discussion or policy on sustainability is complete without smallholder inclusion," said Asimadu.
Allie Subramanian, IDH Deputy Country Manager  introduced a project in the district of Aceh Tamiang in Indonesia that has committed to sustainable palm production to help protect the Leuser Ecosystem while helping smallholders on key issues such as land legality.
Addressing systemic social and environmental issues requires a long-term approach with a direct connection between buyer and landscape. Additionally, through a landscape approach, stakeholders can address issues such as deforestation and poverty across different commodities that are produced in the same landscape.
"Landscape approaches bring together producers, companies, government, and civil society to improve sustainability in an entire region. A landscape approach is important because it addresses sustainability issues at a geographical level rather than commodity level. This means moving from 'sustainable products' to 'sustainable geographies.' This geography can be a jurisdiction or an area bounded by natural borders," explained Subramanian.

How the private sector can get involved
The private sector drives and finances change towards improved sustainability. Companies can help promote landscape approaches in the following ways:
as a landscape partner to implement or support climate-smart palm oil production in the target districts.

as an innovation partner, funding or co-funding innovations focused on smallholders, carbon, biodiversity, or livelihood assets.

as a supply chain partner, through physical or Credits trade of sustainable palm oil or derivatives.
"As a cross-industry collaboration, The Swedish Platform on Risk Commodities gathers more than thirty companies and organisations in Sweden who want to contribute to sustainable production and consumption of palm oil. The Manifesto's call to action summarises what we are striving for: physical sourcing of more sustainable palm oil, sustainable landscapes, smallholder inclusion, and to communicate what we are doing," said Eti Swerige representative Miriam Thunborg.
Eddy Esselink, DASPO representative, underlined the need for further discussions on the other two calls to action on sourcing and communication.  Additionally, BM Trada, as a longstanding Certification Body working with the RSPO standards, reinforced their commitment to encourage on-package use of the RSPO Label and to promote their decision to become RSPO certified. 
Michelle Desilets, Orangutan Land Trust Executive Director, stated, "We have long been active in the space of informing consumers to make the choices that lead to better conservation of species, particularly in choosing only sustainable palm oil, and are keen to work with other stakeholders to amplify this message and the desired behavioural change."
Activities around the SPOD Manifesto will continue in the coming months and will include conversations with the current endorsers that will showcase best practices and learning sessions on what endorsers can do next in order to advance sustainable palm oil through the Manifesto's four calls to action.
If you would like to know more about the webinar or are interested in becoming the next endorser, please reach out to Francesca Morgante, RSPO Senior Manager Europe (Market Transformation) via email at [email protected] or Olatz Armengod, IDH Senior Programme Officer, Markets and SourceUp at [email protected].
For further reading on how companies can implement concrete actions,  download the report, "Sustainable Palm Oil: Europe's Business" here.