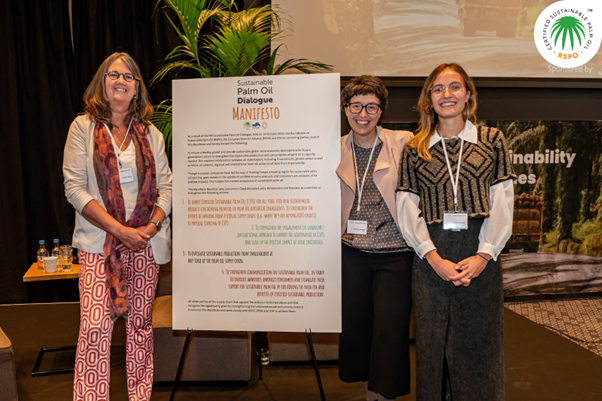 In a move to strengthen commitment to certified sustainable palm oil in Europe, thirteen companies and organisations in the palm oil value chain endorsed a Manifesto at the European Sustainable Palm Oil Dialogue.
Hoofddorp, the Netherlands, 20 October 2022: In the closing ceremony of the 4th European Sustainable Palm Oil Dialogue (SPOD), the Roundtable on Sustainable Palm Oil (RSPO), the European Palm Oil Alliance (EPOA) and IDH launched a Sustainable Palm Oil Dialogue Manifesto calling for consumer goods manufacturers, retailers and wholesalers to strengthen the responsible production and consumption of palm oil.
The Manifesto calls for concrete actions that include: sourcing certified sustainable palm oil; strengthening engagement in landscape and jurisdictional approaches and local initiatives; integrating smallholders and strengthening communications. The thirteen endorsers of the Manifesto are: Alliance for the Preservation of Forests, Daabon, Dansk Alliance for Ansvarlig Palmeolie (Danish Alliance for Responsible Palm Oil), Efeca, Ferrero, Fundación española del aceite de palma sostenible (Spanish Foundation for Sustainable Palm Oil), Henkel, KTC, MVO, Sime Darby Plantation, The Sustainable Palm Oil Choice, Unione Italiana Olio Di Palma Sostenibile (Italian Union for Sustainable Palm Oil), and the World Wildlife Fund (WWF).
Looking further, the SPOD organisers will engage interested actors of the supply chain who would like to endorse the Manifesto and will provide guidance on how to implement the agreed upon actions by referencing the actionable solutions provided in the recently launched Sustainable Palm Oil: Europe's Business Report. Communications and events with the endorses are planned for the following months.
Accelerating Europe's positive impacts
The Dialogue brought together decision-makers, academics and NGOs to exchange thoughts on how Communication, Innovation and Legislation can accelerate the positive impact of sustainable palm oil in Europe.
In his opening address, RSPO Chief Executive Officer Joseph D'Cruz acknowledged the leading progress that Europe has made in sourcing certified sustainable palm oil, commenting on the region's unique position to influence the global market. "To have a more significant impact, we must reach those who ultimately hold the buying power – consumers. We need to rethink how we communicate about sustainable palm oil and connect with the values and priorities our consumers and decision-makers hold dear," said D'Cruz.
Keynote speaker Mark van Baal, Founder of Follow This, a group of over 8,000 green shareholders, reinforced the impact of consumer influence. Sharing lessons learned by the oil and gas industry to the palm oil industry, he said, "Ordinary citizens can have influence over big corporations to change an industry…you are only powerless if you accept being powerless."
Corporate leadership was another important topic discussed at the Dialogue. Upcoming legislation should help companies ensure that progress in sustainable sourcing will not be derailed but instead provide solutions to ensure sustainability increases at all levels and especially at the ground level. "Regulation is part of the journey, it is our role to mitigate consequences and try to drive through regulations the impact we want to drive," said Marcelo Martins, Managing Director, Cargill Global Edible Oil Solutions Europe.
First Innovation Fair
Unique to this year's Dialogue was the first Innovation Fair and competition organised in cooperation with Wageningen University & Research and The Sustainable Palm Oil Choice.
23 organisations applied to showcase their ideas at the Innovation Fair. Ten innovators received the opportunity to share their work during the event, five of whom were invited to pitch their ideas to an expert audience including a network of academia and industry decision-makers. The competition's winner was Jusrian Saubara Orpa Yanda, founder and CEO of Arconesia, an agricultural crop management platform that helps smallholder farmers in Indonesia implement climate-smart agriculture practices. Having grown up in an oil palm farm, Jusrian is now helping Indonesian smallholders to establish agroecological/climate-smart agriculture practices by connecting them with investors, agricultural experts and the market.
Background of SPOD
The European Sustainable Palm Oil Dialogue continues to be an important opportunity for industry players to share thoughts on accelerating sustainability within the palm oil value chain. Palm oil growers, processors and traders, consumer goods manufacturers, retailers, environmental and social NGOs and governments participated in the Dialogue, which also welcomed participants and attendees from North and South America, Africa and Asia.