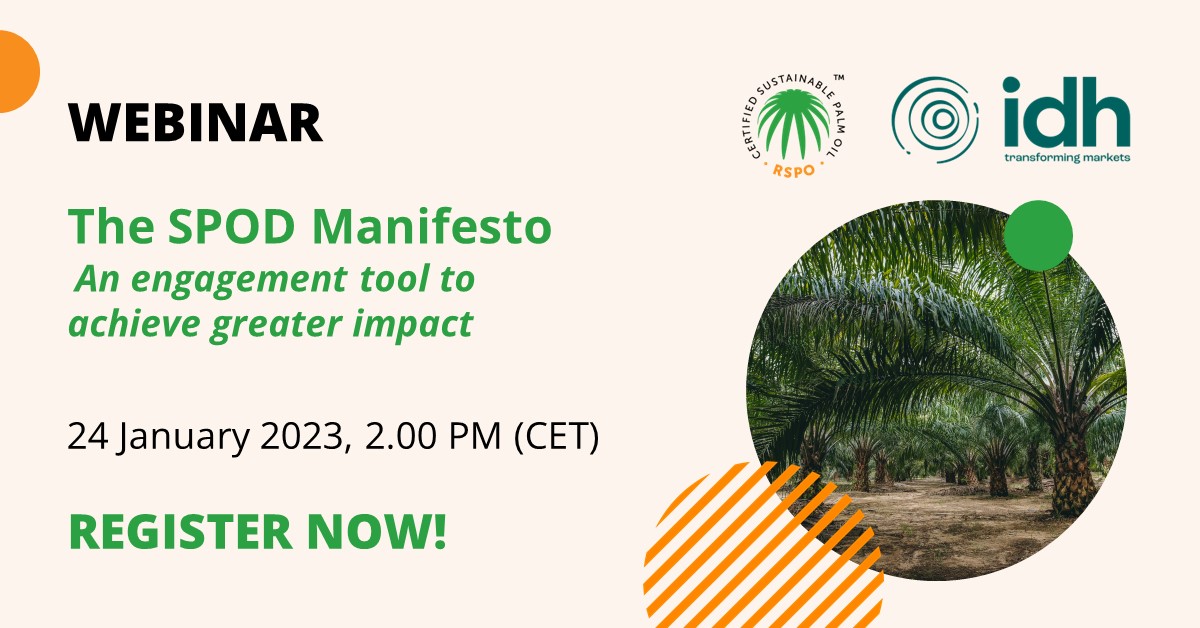 Launched at the Sustainable Palm Oil Dialogue (SPOD) 2022, the Manifesto has so far received 14 endorsements by companies, NGOs, and collaborative initiatives all agreeing on the need to take action to achieve sustainability in the palm oil value chain. The Manifesto focuses on actions in four areas: physical sourcing, smallholders' inclusion, landscape approaches, and communication.
In this webinar, experts from RSPO and IDH will showcase concrete examples of activities that companies can implement in the areas of smallholder inclusion and landscape approaches, with contributions from current endorsers. New endorsers of the manifesto will also be announced.
Register here to join us for this interactive discussion.
Date: Tuesday 24 January 2023
Time: CET 14.00
Moderators: Francesca Morgante (RSPO) and Olatz Armengod (IDH)
Speakers: Matthew Spencer (Global Director, IDH), Edem Asimadu (Smallholder Manager Africa, RSPO) others to be confirmed
Early endorsers of the Manifesto include: Alliance pour la Préservation des Forêts (APF), Daabon, Group Dansk Alliance for Ansvarlig Palmeolie (Danish Alliance for Responsible Palm Oil), Efeca, Ferrero, Fundación española del aceite de palma sostenible (Spanish Foundation for Sustainable Palm Oil), Henkel, KTC (Edibles) Limited, MVO – The Netherlands Oils and Fats Industry, Sime Darby Plantation, The Sustainable Palm Oil Choice (SPOC), Unione Italiana per l'Olio di Palma Sostenibile (Italian Union for Sustainable Palm Oil) and World Wildlife Fund (WWF)