The RSPO Secretariat would like to invite you to participate in a Webinar on  Temporary and Casual Workers in Oil Palm Plantations – Case Study in Indonesia on 14 March 2023 from 4:00 PM to 5:00 PM (MYT). This is part of an initiative of the Labour Subgroup under the purview of the Human Rights Working Group of the RSPO.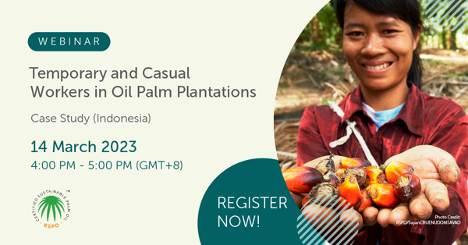 Employing workers on a temporary and casual basis is commonly observed in oil palm plantations in Indonesia. It was estimated that 70% of the workforce in Indonesia are temporary or casual workers (Koalisi Buruh Sawit Indonesia, 2018), most of whom tend to be women. Palm oil producers tend to use temporary and casual workers during peak seasons to assist with harvesting, oil palm replanting, and setting up plantations during the initial phases. However, there have been instances wherein these segments of workers assist with the clearing, fertilisation, maintenance, and replanting activities, which go on throughout the year. 
There are a number of cases wherein temporary and casual workers are employed without contracts or agreements, thus increasing their risk of exploitation and forced labour. For instance, it is known or common practice that these groups of workers are not offered the same level of social and welfare protections as permanent workers (Sandra et al., 2021). This is especially concerning in the event of accidents, wherein these workers will not be entitled to medical/hospitalisation coverage since they do not have formal contracts or agreements. 
This session will discuss the temporary and casual workers in the oil palm industry, the critical issues they face, and a case study by Musim Mas on their preventive measures to counter common issues observed.  Leena Ghosh, RSPO Head of Human Rights and Social Standards, will moderate the session. Olivier Tichit, Director of Sustainability of Musim Mas, will be the key speaker.  Kamini Visvananthan, Human Rights Consultant from Insaight Consultancy, will also participate in the discussion.
Please join us for this interactive webinar by registering here.