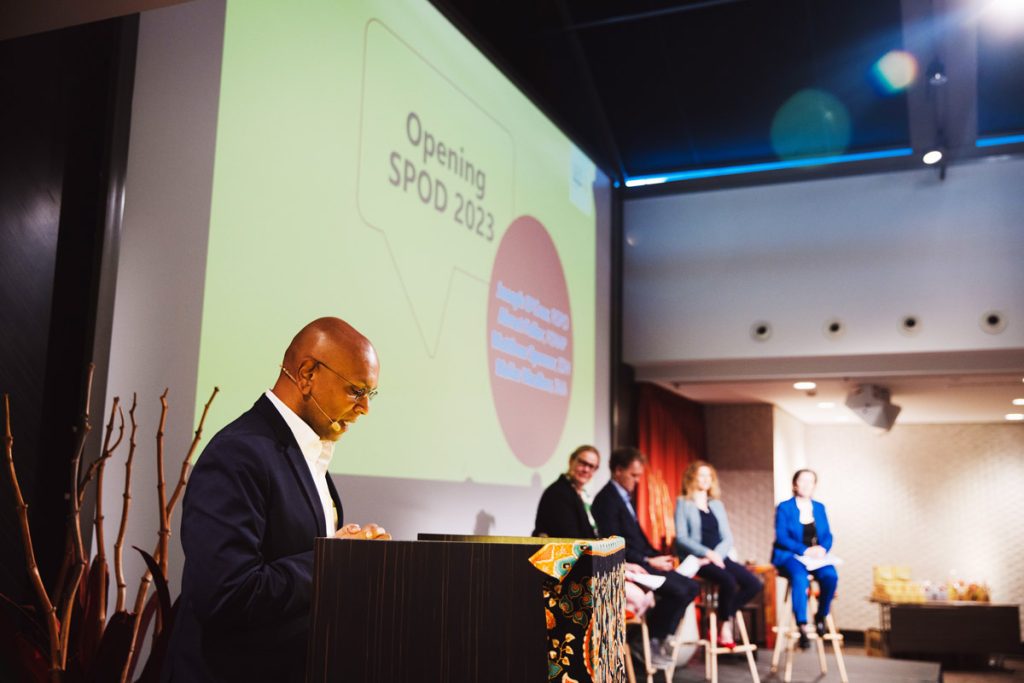 Frankfurt, 15 June 2023: One month after the EU Deforestation Regulation (EUDR) was adopted, industry leaders, smallholder representatives, civil society experts and government representatives discussed ways forward. 300 attendees gathered in Frankfurt (Main), Germany, for the Sustainable Palm Oil Dialogue on 14 June to exchange views on how this regulation can be most effectively implemented in the 18-month transition period.
The organisers reaffirmed support of the regulation and reiterated that the sustainable palm oil sector is already relatively advanced in terms of traceability. Participants discussed remaining challenges and solutions to ensure that no one – particularly smallholders and small and medium enterprises – is left behind.
Collaborating for sustainable palm oil
"Risk mitigation has to be holistic – encompassing and balancing social risks as well as environmental issues associated with your operations and supply chains," Sophia Gnych, Policy Analyst at OECD, stressed in her keynote speech. "Comprehensive and ongoing due diligence and risk mitigation is now part of the cost of doing business."
To demonstrate due diligence as required by the EUDR and other upcoming legislations, companies need transparent supply chains.
While there is a growing number of traceability solutions available, to date they are barely interoperable. At the Dialogue, participants had the opportunity to discuss data standards, sharing and interoperability. Initiative for Sustainable Agricultural Supply Chains (INA) presented the Digital Integration of Agricultural Supply Chains Alliance (DIASCA) as a multi-stakeholder approach towards interoperability between different IT-solutions. RSPO introduced its plans for a new digital platform for traceability that will also allow members to report on the conventional part of their supply.
In the oleochemical sector, traceability is even more complex. Participants had the opportunity to understand the unique dynamics of the oleochemical supply chain from market shortages to specific traceability challenges for derivatives.
While the EUDR can be a chance to improve transparency in the sector, it remains vital to preserve smallholder access to the EU market. "If we involve smallholders, we can change many things on the ground," Rukaiyah Rafik, Head of FORTASBI Secretariat, said. Companies that exclude smallholders in an attempt to de-risk their supply chain do not contribute to solving deforestation. To ensure smallholder inclusion and tackle other social and environmental issues together with all relevant stakeholders, landscape and jurisdictional approaches will play an important role.
Positive change requires both, voluntary measures, such as precompetitive dialogue, certification, financial investment, as well as mandatory measures such as the EUDR.
Innovation Fair
SPOD 2023 also hosted this year's Innovation Fair, organised by Sustainable Palm Oil Choice (SPOC) and Wageningen University & Research. Eight innovators presented their concepts to the visitors, who voted for the one they found most promising.
The winner of the Innovation Fair was Palmas del Ixcan from northern Guatemala: an agro-industrial company dedicated to the sustainable cultivation of palm oil in close cooperation with smallholder farmers.
SPOD 2023 was jointly organised by Roundtable for Sustainable Palm Oil (RSPO), IDH, Forum for Sustainable Palm Oil (FONAP), and Initiative for Sustainable Agricultural Supply Chains (INA).
Background
The EU Regulation on Deforestation-Free Products aims to ensure that agricultural commodities consumed in the EU have not led to deforestation or forest degradation after 2020 and have been produced in compliance with relevant legislation in the country of production. To this end, companies must fulfil due diligence requirements for palm oil and six other commodities, as well as certain derived products.