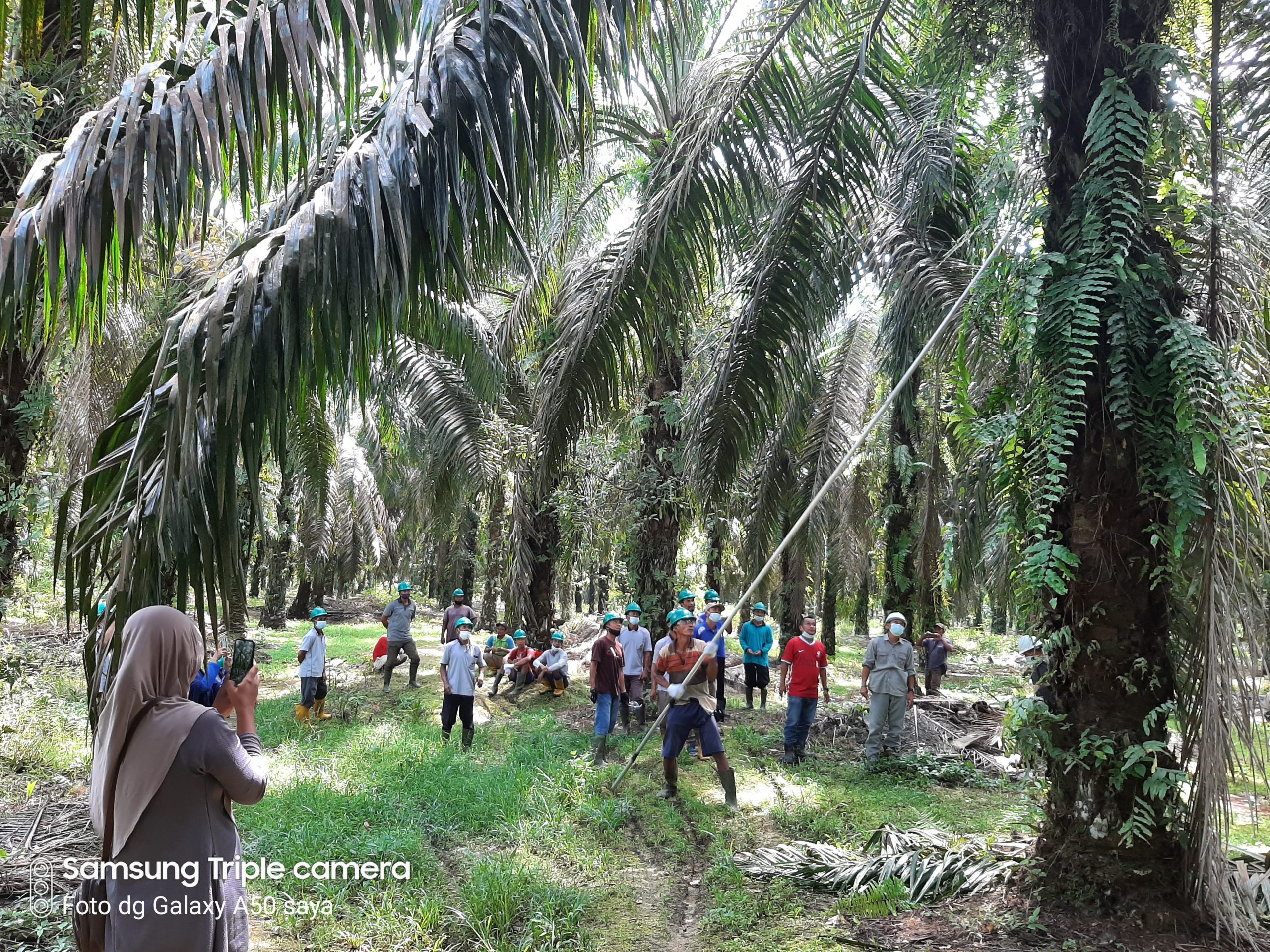 About the group
Number of smallholders: 129 (115 Men, 14 Women)
Total Land Area: 496.93 Ha
Status: Certified
Group location: Bumi Makmur Village, Nibung Sub-District, Musi Rawas Utara District, 31674, South Sumatera Province, Indonesia
Country: Indonesia
On-going Facilitator:
SUSTAINABILITY JOURNEY STORY
Maintaining sustainable practices for rural welfare improvement
4 June 2021 – A smallholder cooperative in Bumi Makmur, a village in southern Sumatra of Indonesia, has enjoyed the benefits of implementing sustainable practices for a fifth year. To share something in return to society, it is now ready to contribute more to the rural welfare improvement programme in the area.
The KUD Karya Mulya Cooperative was set up in 1987 in the Bumi Makmur village, located in the Nibung Sub-district, Musi Rawas Utara District, South Sumatra Province, Indonesia, to group horticulture farmers; most of the members shifted to grow palm oil in mid the mid-1990s. 
Fransiska "Ria" Yuliariani, an Internal Control System (ICS) staff of the Cooperative, said following the popularity of palm oil cultivation, members began to adopt sustainable practices after the then-RSPO-member PT London Sumatra initiated socialisation about the concept in 2016. It obtained the RSPO Certification in 2017, Ria reported.
"Karya Mulya is determined to retain the certification as we are now entering our fifth year. We understand that palm oil must be cultivated sustainably, so it may bring benefits to present and future generations. In addition, good agriculture methods also play an important part in rural development, especially due to land use; so the farmers are committed to contributing to improving social welfare in the village."
Ria added the Cooperative has so far participated in several contributions related to the development plan in the neighborhood, including the construction of a mushola (a small-sized mosque) and rural road compaction projects.
She said there were also regular social activities; for example in the time leading up to Eid when a social programme is launched and dedicated to helping needy people. There is also an internal gift programme for the members of the Cooperative; traditionally also launched at the end of the fasting month of Ramadan, she added.
"What we are doing to contribute to the rural welfare improvement programme is attributed to the Cooperative's achievement to get the RSPO Certification. We have to remember that sustainable practices are related to the integration of environmental and social concerns into agricultural practices which are in line with the efforts to improve the quality of life, and to strengthen livelihood and the community."
Regarding social welfare in a wider aspect, she continued, the Cooperative is also actively involved in the efforts to prevent land and forest fires. Such fires, which generate haze dangerous to human health; are usually caused by farmers burning their fields in preparation for planting, and have frequently occurred and affected some parts of Indonesia, including South Sumatra, one of the most fire-prone areas in the country.
But Ria emphasized, "It's never happened in this village. There's zero burning and no haze-causing fires at all here, even during the dry season. In this case, we have always taken care of the environment for a very  long time. We are aware of the danger of forest and land fires."
The Cooperative has a fire prevention unit to prevent fires in the members' plantations, and also to help non-members to prevent the practice of purposive burning for land opening and cultivation. To support the team, an incentive fund is used to prepare a command post and to hold training in fire fighting.
Sharing about the target for next year, Ria said that KUD Karya Mulya will try to get the second five-year RSPO Certification, after obtaining it for the first time about five years ago. "We will try by extending regular training, good communication, and an open system based on transparency and trust. Surely we also expect to have more members."
Meanwhile, it's now about five years away from the replanting period, she added. "We have to think about it from now on and plan the funding. We must work hard together and think about a solution if the fund is not sufficient. We hope there is a kind of financial support scheme for the replanting plan. Otherwise, we will seek bank loans which we know is not easy."
Project Impact
Total area covered by the project
496.93 Ha
Number of smallholders benefitting from this project
129 Smallholders
Number/percentage of women supported by this project
10.85% women in this project
How you can support
The group members are in the fifth year of being RSPO Certified, they are now in line to have the second RSPO certificate for another 5 years. They need assistance from a third party to strengthen their capacity to retain their ISH RSPO certification so it can attract more farmers to adopt the same standards. This effort should be appreciated by the downstream players such as Consumer Goods Manufacturers or retailers. 
Please give us support in the sustainable supply chain by purchasing the RSPO Smallholders Credits. There will be more attention to show other oil palm farmers in the area to apply best management practices that protect the environment.
GROUP CONTACT
Bumi Makmur Village, Nibung Sub-District, Musi Rawas Utara District, 31674, South Sumatera Province, Indonesia
Representative Contact
Suyono | Group Manager/Chairman | [email protected] |
IMAGE GALLERY