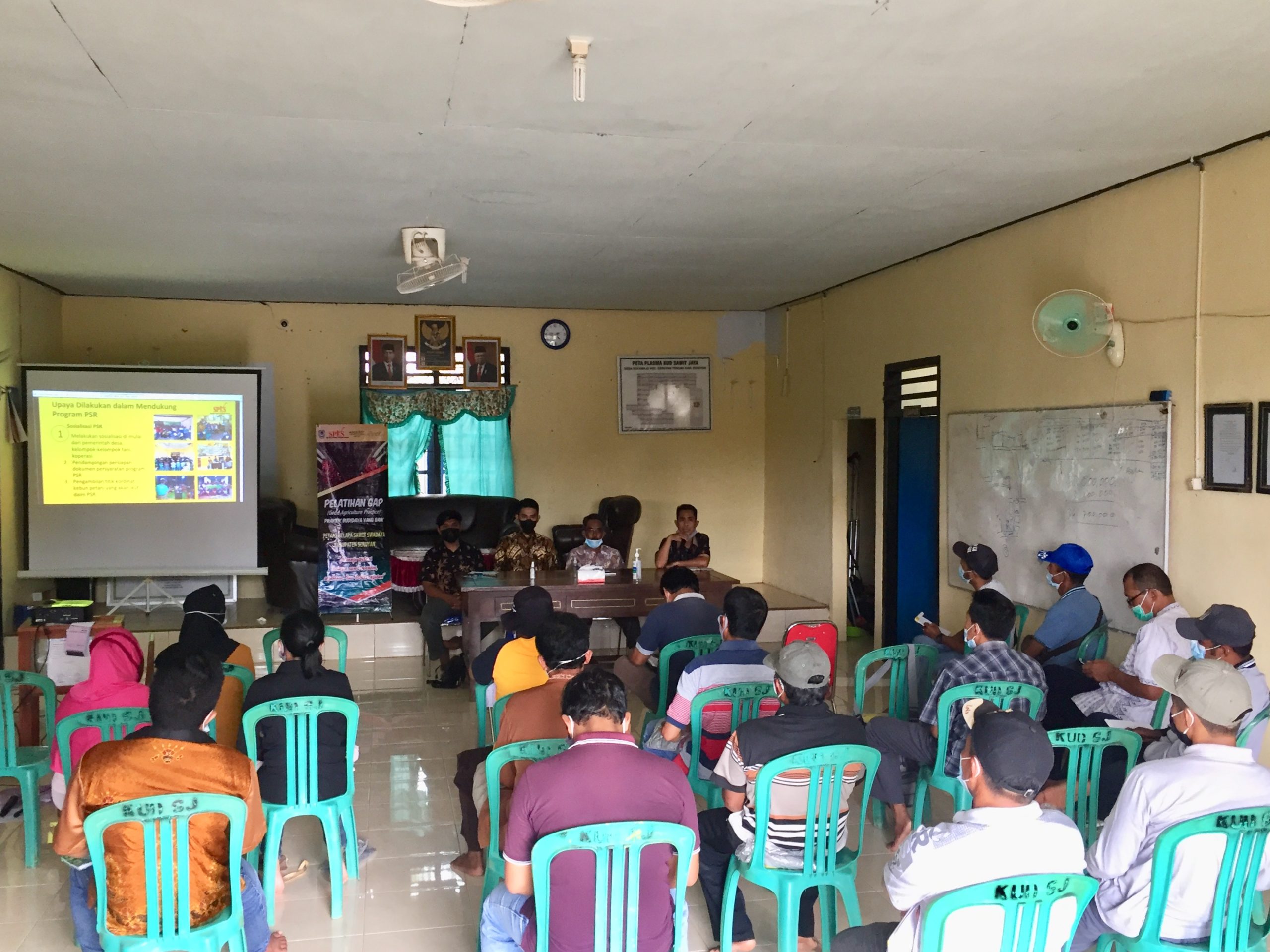 About the group
Number of smallholders: 302 (208 Men, 94 Women)
Total Land Area: 838.38 Ha
Status: Certified
Preserved Area: 6 Ha
Group location: Jl. Poros Desa Suka Maju Village RT 006 RW 002 Seruyan Tengah 74281 Seruyan District Central Kalimantan Indonesia
Country: Indonesia
On-going Facilitator:
SUSTAINABILITY JOURNEY STORY
Smallholders strive to retain responsible practices 
Despite the coronavirus pandemic that has affected human activity in almost every corner of the world, a smallholder group in a rural area in Central Kalimantan, Indonesia, has tried its best to cultivate oil palms sustainably in line with RSPO standards. They believe that they can retain the RSPO Certification for the second year.
Sawit Jaya Cooperative, which is located in Suka Maju village, Seruyan Tengah Sub-district, Seruyan District, obtained its RSPO Certification for the first time in October 2019. The members were happy and relieved that they could successfully adopt sustainable practices —a new way of farming — in their plantations.
Hendriyono, the group manager of the cooperative, said the smallholders there had never heard about the certification and sustainable practices until Yayasan Inobu, an Indonesian non-profit research institute, came to the area and introduced the concepts to them in 2016. The nonprofit then provided training and assistance in promoting the best agricultural practices.
"We learned about the RSPO Certification and sustainable programme from Yayasan Inobu. At that time, in 2016, the cooperative was already in operation, but we didn't have any programme related to environmental issues," he said.
He added all of the members were independent smallholders and unfamiliar with sustainable practices."We decided to join the RSPO programme because we were sure that the future would be better if we applied these practices. We learned that by implementing the standards, we would have higher productivity and better quality of FFB. It is very good for our sustainability as farmers too."
He said the farmers have been very supportive towards the programme. "The members were willing to join the meetings and training sessions. They were keen to discuss their existing practice and problems they face in maintaining their farms."
In the training, farmers learned about efficient fertilisation methods, pest control without chemical substances and how to better handle hazardous and toxic wastes without polluting the  rivers or ditches near the plantation.
"Until then, we have proved that learning best practices through RSPO Certification is a good thing for the smallholders to improve cultivation as well as plantation management to be more environmentally friendly and sustainable," said Hendriyono. "They also feel that there is a kind of guarantee for the sales of the certified products or FFB."
He highlighted that the farmers are committed to the responsible practices for more sustainable palm oil production. "Most of us are more familiar with good agricultural methods, so that the quality of crops is better, though it generally also depends on the weather. We expect to get the RSPO Certification for the second time later this year."
The cooperative has regular meetings and training, at least once a month, to discuss progress or challenges faced by all divisions in the internal control system.  There are  six farmer groups in the cooperative, namely Sumber Rezeki, Guyub Rukun, Rezeki Ilahi, Floba Mora, Tani Sejahtera, and ex-plasma KUD Sawit Jaya, so that meetings can be held at their respective locations or simultaneously, or sometimes all members will gather at the cooperative office.
He said the RSPO Principles and Criteria are in line with the Indonesian Presidential Regulation (Perpres) No 44/2020 about the Indonesian Sustainable Palm Oil (ISPO) Certification System. The ISPO is a mandatory standard for all growers, including smallholders, to adopt sustainability standards in managing oil palm plantations in Indonesia.
Sawit Jaya Cooperative aims to have more members by next year. 
 "It's good to see existing members have all legal documents clear and clean since they joined the RSPO. I can say life becomes more peaceful because legality is clear, there are no more conflicts over land ownerships," Hendriyono said. "This kind of situation will hopefully encourage other farmers to join us."
Hendriyono added that by now, the existing members of Sawit Jaya Cooperative still need support from the RSPO to provide better access in selling RSPO credits.
Project Impact
Total area covered by the project
838.38 Ha
Number of smallholders benefitting from this project
302 Smallholders
Number/percentage of women supported by this project
31.13% women in this project
How you can support
The group members are in the third year of being RSPO Certified and the Internal Control System (ICS) is still learning how to ensure members follow the procedure. They need assistance from a third party to strengthen the capacity of the ICS to ensure they can retain their ISH RSPO certification in the next few years. This effort should be appreciated by the downstream players such as Consumer Goods Manufacturers or retailers. 
Please give us support in the sustainable supply chain by purchasing the RSPO Smallholders Credits.  
GROUP CONTACT
Jl. Poros Desa Suka Maju Village RT 006 RW 002 Seruyan Tengah 74281 Seruyan District Central Kalimantan Indonesia
Representative Contact
Hendriyono | ICS Manager | [email protected] |
Ali Sobirin
Secretary
(+62) 821-5370-4115
[email protected]
IMAGE GALLERY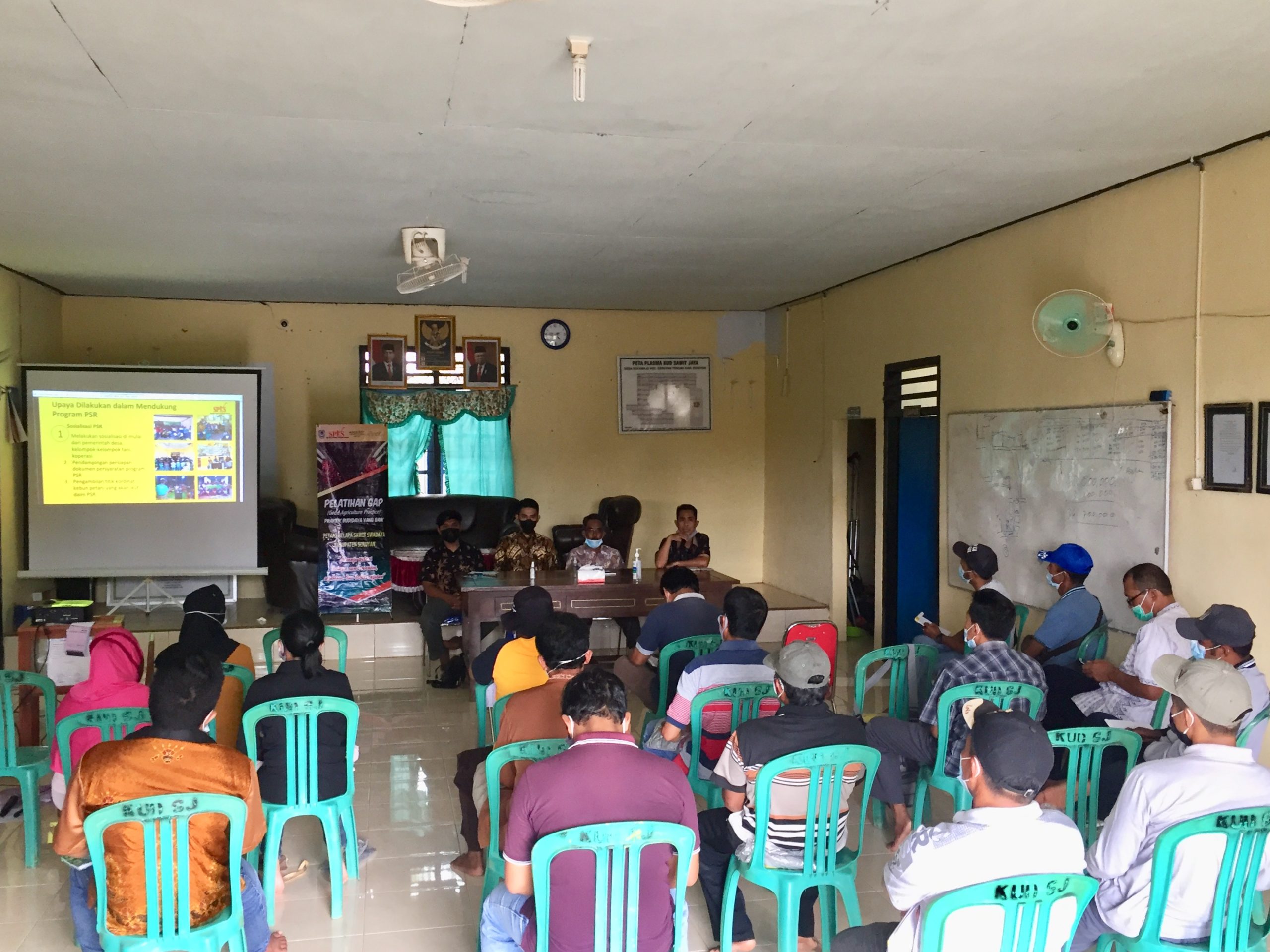 KUD Sawit Jaya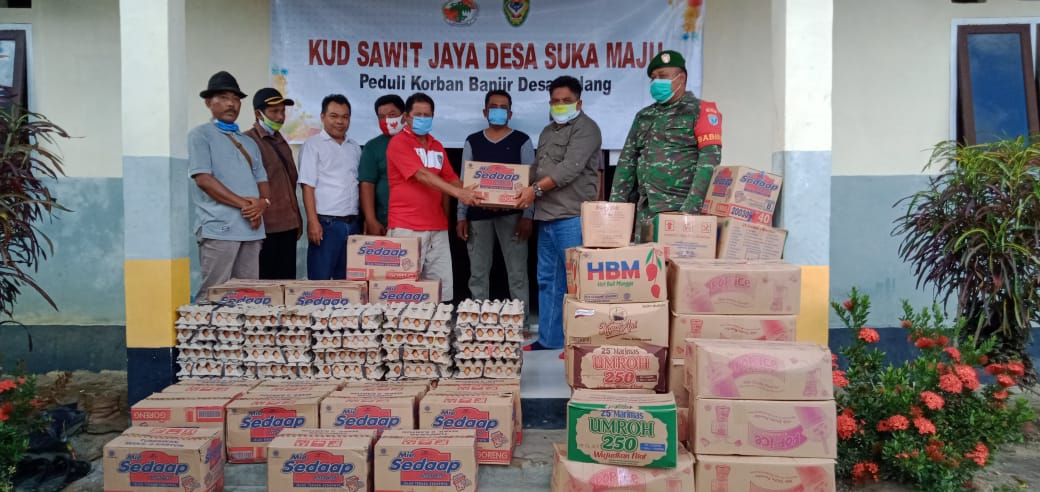 KUD Sawit Jaya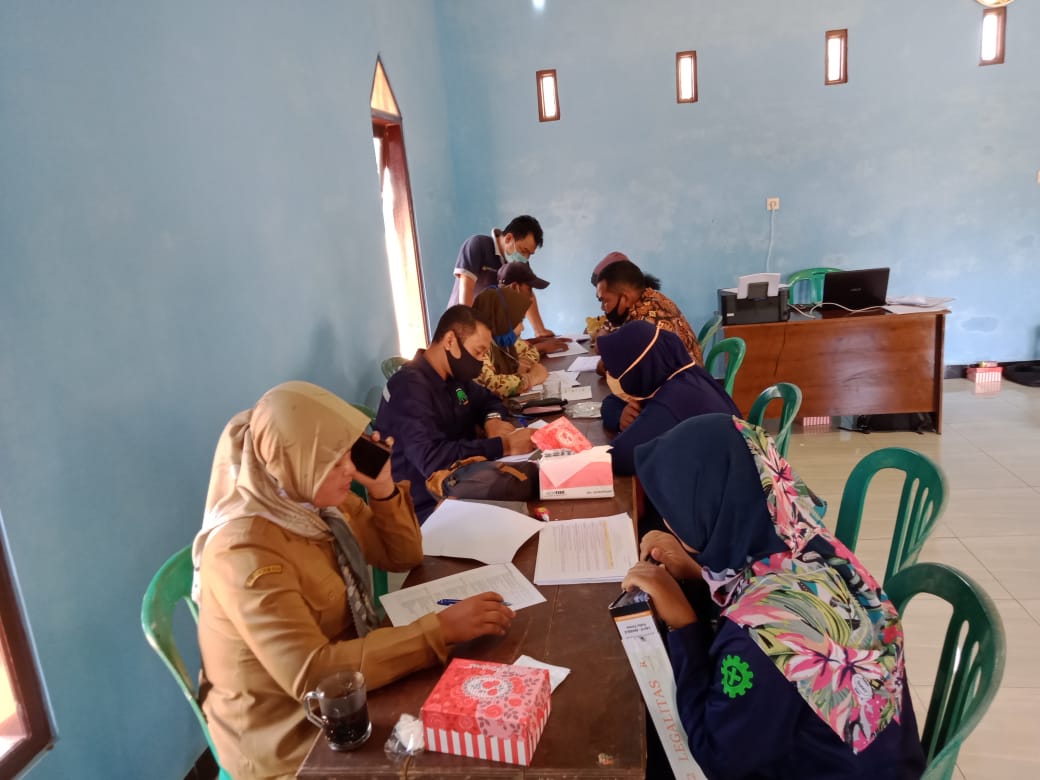 KUD Sawit Jaya