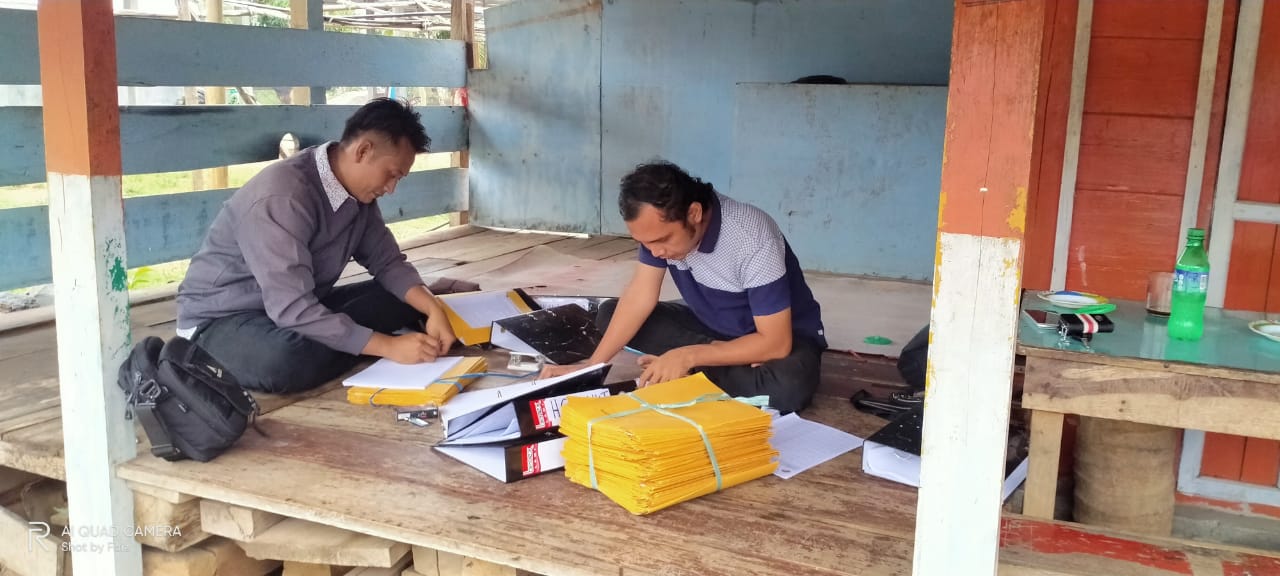 About the group
Number of smallholders: 236 = 172(M), 64 (W)
Total Area: 460.76 Ha
On-going Facilitator: SNV
Location of project: Penilikan Village, Peninjauan Sub-District, Ogan Komering Ulu District, 32191
Country: Indonesia
Province: South Sumatera
SUSTAINABILITY JOURNEY STORY
RSPO Certification enhances good practice replication
Knowledge sharing and good practice replication are essential in improving the resilience of agriculture-based livelihoods. Oil palm growers in a village in southern Sumatra, Indonesia, have been able to support rubber cultivation as another commodity in the area thanks to RSPO certification.
The farmers of the KUD Mitra Bersama Cooperative in the village of Makarti Jaya in Peninjauan Sub-district, Ogan Komering Ulu District, South Sumatra Province in Indonesia, have gained better awareness and understanding to improve crops in oil palm cultivation since they adopted the RSPO Certification. The valuable knowledge and skills have then been replicated and implemented in the rubber plantation, another main commodity sector in the area.
Group Manager of the Cooperative I Nyoman Sucipta said the oil palm growers agreed to join RSPO in 2020 not long after the Dutch non-profit organization SNV introduced RSPO Certification and sustainable practices to the village.
"It took less than a year for the Cooperative to obtain the certification in late 2020; that time with only 33 oil palm farmers joining the programme. They were all able to prove that they understood sustainability initiatives and that they can farm sustainably," he said.
He added considerable experience has since been gained for the improvement of palm oil cultivation through sustainable practices; and it was a good thing that it could be replicated in other commodity plantations, in this case, rubber. 
Indonesia is one of the largest natural rubber producers globally. The rubber plantations in South Sumatra, meanwhile, are the oldest in the country.
Nyoman said most of the farmers living in the village were a resettlement community, in which the Government of Indonesia had initially prepared oil palm and rubber plantations as livelihood alternatives. "So both commodities are the traditional source of incomes in the village. But so far only sustainable practices in oil palm plantations have been introduced to us here."
He added that the farmers happily participated in the training sessions, providing them the knowledge on good agricultural practices, with various topics such as cultivation, crop maintenance, plantation management, fertilising and harvesting methods, as well as reducing chemical use to avoid biodiversity loss and environmental degradation.
"Similar conditions can be found in different commodity plantations. That's why the oil palm farmers can share their knowledge with those cultivating rubber for replication, while some of the farmers are working in both plantations. For example, chemical weed control can be applied both in oil palm and rubber plantations. By doing this, farmers can save costs. Waste management, in terms of plastic waste recycling plan, can also be applied in both plantations," he revealed.
He added that as part of health and safety procedures, the oil palm plantations have also prepared a "washing room", a facility to be used especially after pest control treatment; in which the farmers can wash Personal Protection Equipment and any parts of their body that may have been exposed to the pesticide.
According to Nyoman, sustainable practices comprise agricultural methods aiming to improve productivity in quality and quantity besides reducing the risks and bad impacts on the environment and society. "So farmers are pleased to apply and will try their best to retain RSPO Certification."
So far, he continued, members of Mitra Bersama Cooperative participating in the certification have seen benefits, for example, they can earn additional incomes from credit sales.
He hopes more training sessions can be conducted for the farmers to promote the use of good agricultural practices and build their capacity. "We need support to get new knowledge from the experts. This is also to support us to retain the certification." 
Project Impact
Total area covered by the project
460.76 Ha
Number of smallholders benefitting from this project
236
Number/percentage of women supported by this project
27.12% women in this project
How you can support
The group members are in the second year of being RSPO certified, the ICS still needs assistance to improve their skills and capacity which in turn will ensure they can retain their certification. This effort should be appreciated by downstream players such as Consumer Goods Manufacturers or retailers. 
You can help give us support in the sustainable supply chain by purchasing the RSPO Smallholders Credits. More farmers will be encouraged to join the group to apply oil palm plantations sustainably.
IMAGE GALLERY