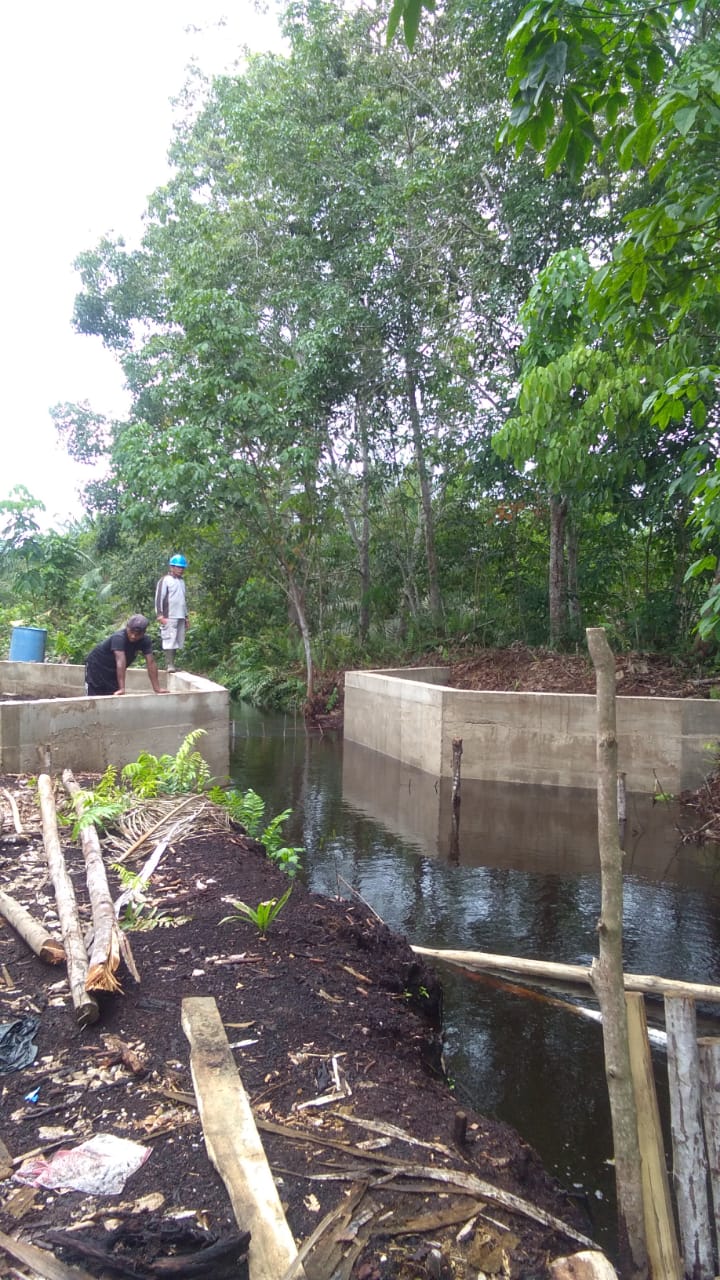 About the group
Number of smallholders: 209 (169 Men, 40 Women)
Total Land Area: 372.80 Ha
Status: Certified
Group location: Hang Jebat Street, Dusun Sungai Pinang, Koto Ringin Village, Mempura Sub-District, Siak District, 28773, Riau Province, Indonesia
Country: Indonesia
On-going Facilitator:
SUSTAINABILITY JOURNEY STORY
Independent farmers in Indonesia become world's first RSPO-certified collective
A smallholder cooperative located in a peatland-rich area in Riau province of Indonesia has received RSPO certification, becoming the first-ever group of independent farmers in the world to do so through cultivation on terrestrial wetland.
The Beringin Jaya Cooperative, situated in the Village of Koto Ringin, Mempura Sub-district, Siak District in Riau, includes 209 independent oil palm growers who became aware of best management practices of oil palm farming after a socialisation exercise in the neighbourhood in 2017/2018.
Mustawi, Group Manager for Certification of the Cooperative, said it was WRI Indonesia, a non-profit research organisation based in Jakarta, that introduced the concept of sustainable practices to the smallholders. "We started oil palm cultivation back in 2005 after farmers quit rubber production. Back then, we didn't know much about environmentally sustainable practices, we just applied what we thought were good methods to get results."
He said that the Indonesian Government brought the idea of oil palm farming to the village as it was considered a better perennial crop for the plantation, as their land  was usually affected by prolonged inundated conditions during the rainy season. He added that unlike rubber, oil palm is much more resilient to rainfall and floods.
According to Bukti Bagja of WRI, the introduction of RSPO principles was carried out with full support of the Siak district government and its Agriculture Office, who were the first to encourage farmer groups to join the RSPO.  
"The district government is very interested in getting a smallholder plantation model that can apply best management practices as a way out of the conflict of interest between peat protection and people's needs," Bagja added.
"Applying RSPO principles is the most viable solution today for the large number of people who live on peatlands and depend on oil palm plantations for their livelihood. By becoming a member of the RSPO,  farmers will be motivated to address the water management aspects of peatland, prevent land fires, and protect biodiversity while still meeting their daily needs.
Mustawi explained that after WRI introduced and socialised the smallholders on the details and benefits of sustainable practices, they gained a far better understanding of why such practices were vital. "We were interested in participating in the efforts to conserve the natural environment, as our lives and livelihoods depend on these natural resources."
Training sessions were later held for the farmers to learn more about best practices. The subjects varied from plantation maintenance, chemical use and pest control, harvesting methods, health and safety in plantations, and other issues which enriched participants' knowledge, he added.
"It's easy to understand that sustainable practices are linked to measures to protect the environment and to prevent  further damage, ensuring we maintain  a healthy and sustainable domain for future  generations. So why shouldn't we adopt such practices in the plantation as well? We as smallholders will also benefit in terms of livelihood."
According to Mustawi, there were many things to do and requirements to meet to receive RSPO Certification, but positive results were observed in the village which supported the process, he said. 
"Some members of the Beringin Jaya Cooperative are also personnel of the Manggala Agni Brigade (the emergency response team formed by the Indonesian Government specialising in land and forest fires). So the people in this village are quite environmentally literate, in that they are never involved in land burning as a part of plantation preparation. This is a very sensitive issue in sustainable practices."
Another supportive aspect was the introduction of the AeroHydro Culture technology in the village. It is an innovative methodology developed in Japan to preserve peatland when used as plantation land. The method supplies nutrients and oxygen to the peatland surface to improve crop productivity. 
Mustawi said the technology was brought in as a collaborative project by several parties, including WRI, the Siak Administration, and several Indonesian agencies and institutions, as well as civil society and non-governmental organisations.
He said the next step planned by the Cooperative was to adopt measures to handle floods that usually hit the plantation during the rainy season. "We will need further discussions to find the best solution. We will need support from local and central government offices for this endeavour. Once in place, we hope more farmers will join us, so that sustainable practices can  be applied on a wider scale."
Project Impact
Total area covered by the project
372.80 Ha
Number of smallholders benefitting from this project
209 Smallholders
Number/percentage of women supported by this project
19.14% women in this project
How you can support
The group members are in their first year of certification, and they are still in the process of learning. They need assistance from third parties to maintain their livelihoods while upholding sustainable practices on their plantations. Their efforts benefit downstream players such as Consumer Good Manufacturers and retailers.
Please show your support by purchasing RSPO Smallholder credits. With your help, they can be better equipped to raise awareness of sustainable palm oil farming and protect the environment around us. 
GROUP CONTACT
Hang Jebat Street, Dusun Sungai Pinang, Koto Ringin Village, Mempura Sub-District, Siak District, 28773, Riau Province, Indonesia
Representative Contact
Sawalmi | Head of Cooperative | [email protected] |
Amril
ICS Manager
(+62) 821-7111-6810
[email protected]
IMAGE GALLERY