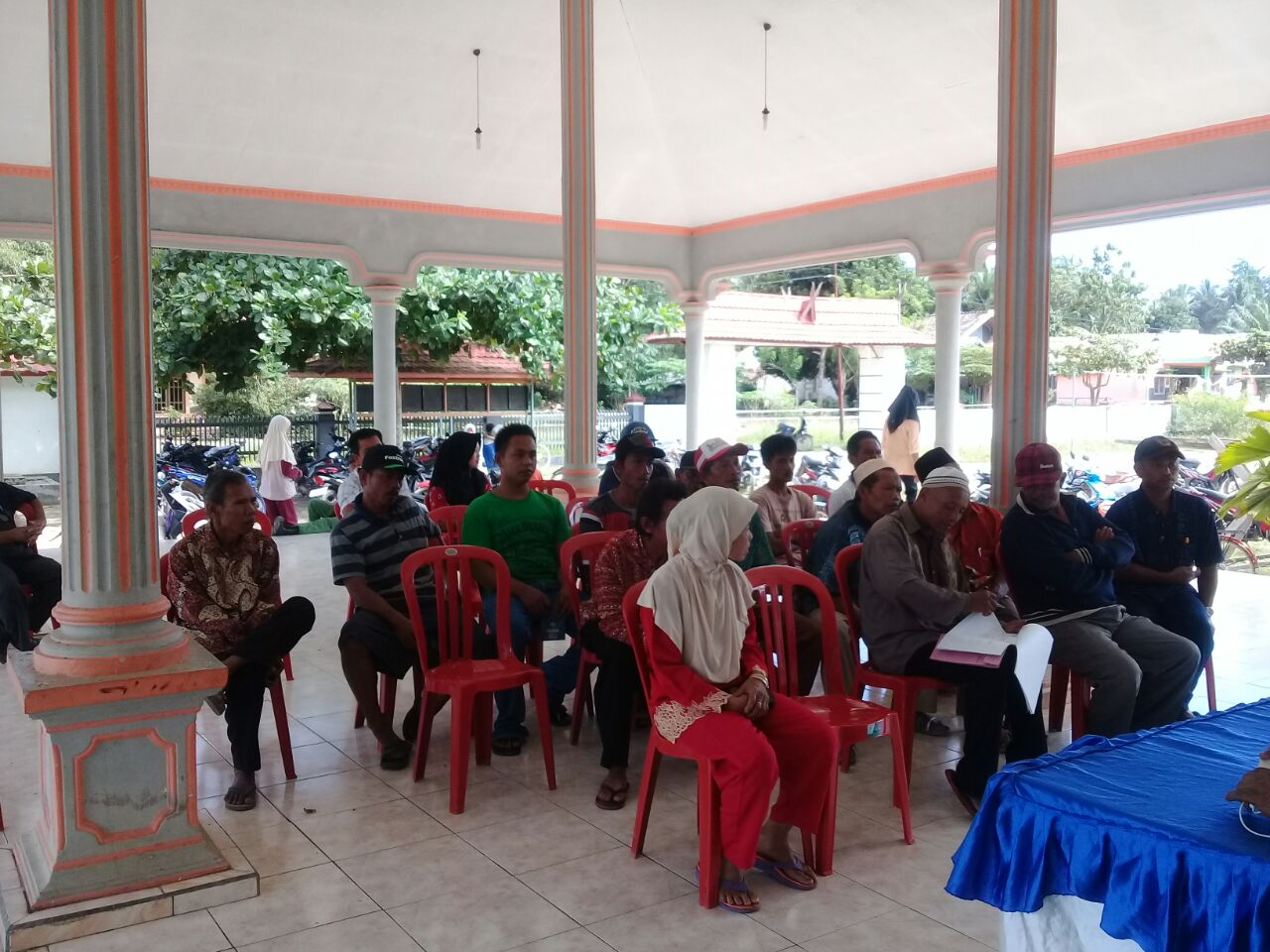 About the group
Number of smallholders: 214 = 193(M), 21 (W)
Preserved Area: 393.64 Ha
Total Area: 393.64 Ha
On-going Facilitator: Yayasa Inobu
Location of project: Lada Mandala Jaya Village, Pangkalan Lada Sub-District, Kotawaringin Barat District, 74113
Country: Indonesia
Province: Central Kalimantan
SUSTAINABILITY JOURNEY STORY
Maximising land use by intercropping horticultural crops
Smallholders of the farmer group BUMDes Karya Mandala Makmur are enjoying additional income after maximising land use by including horticultural crops in their oil palm plantations, located in Lada Mandala Jaya Village in the Kotawaringin Barat District of Central Kalimantan. 
Sartono, a manager of the farmer group, said that cultivating cash crops in allocated areas in the oil palm plantation has been more widely practiced after the farmer group obtained RSPO certification in 2019.
"To receive the certification, the smallholders have to meet many requirements and standards in sustainable practices. They convert to new methods with an improved sustainability approach. They are able to use the same methods for the cash crops," he said.
As a village enterprise entity, BUMDes Karya Mandala Makmur is managed by the community and village administration. It aims to strengthen the village's economy and has several business divisions; one of which is the certification unit for oil palm smallholders.
According to Sartono, the smallholders had to undergo a series of training sessions and workshops to gain RSPO certification. The workshops provide guidance on various areas from wearing gloves and other protective equipment, to putting rubber covers on sickles, reducing agrochemical use, and efficiently applying fertilizer and nutrients.
In addition to teaching responsible and sustainable farming practices, the Internal Control System (ICS) of the village-owned enterprise also provides training sessions on how to maintain soil fertility and control pests and weeds.
Sumarni, a member of the group, said she not only learned about farming oil palm sustainably, but also learned how to grow vegetables, such as eggplant, chilies, and water spinach, in the fields near the oil palm plantation. These additional crops helped Sumarni increase her family income. 
"Since then, the smallholders are also able to cultivate the cash crops with sustainable practices. One of the benefits of intercropping is that it provides employment to those with no access to land and offers better food security in households. It can also serve as sources of additional revenue, as the crops will improve the quality of soil in the plantation. Hopefully, the intercropping will also empower the community," he said.
He said the cash crops include chili, eggplant, bitter-melon, water-spinach, tomato, long-beans and loofah (gambas), adding that some of the farmers are already familiar with such horticultures and understand the cultivation process. The horticultural farmers then sell their harvest to the neighbouring sub-districts. Only a few farmers grow horticultural crops because the seedlings of these crops can be costly.
"About a quarter of each hectare of plantation used for oil palm can now be slated for intercropping. But this can only be applied in young oil palm plantations, aged between 0 and 5 years," he stated. 
To maintain the crop quality, farmers need external support and training, particularly in the areas of land preparation, fertiliser and disease protection, good harvesting practices and storage, he added. 
"Intercropping provides advantages for smallholders, such as efficiency of weeding and nutrients. In the long term, the crops are also expected to ensure food security and food self-sufficiency in the village. This, however, requires additional attention and extra care due to different growth periods. The overall cultivation must be carefully managed. Oil palm harvesting, for example, should be done carefully to avoid damaging the intercrop plants."
Sartono said the RSPO certification has also had a positive impact on the villagers engaged in cattle farming.
"Sustainable practices have also been applied in cattle farming. There's been a kind of integrated farming system between cattle and oil palm, in which the smallholders collect and supply palm oil wastes to be converted as cattle feed, while the manure of the livestock can be used and processed as compost in the plantation," he said.
He added that to retain the RSPO Certification, there are regular meetings to motivate and encourage smallholders to maintain their sustainable practices.
"During the pandemic, we continue to promote good agricultural practices and mindsets, and provide training sessions on skills and health issues," he said, adding that the group also gave food aid to those in need. With a healthy routine in place, he is confident that all oil palm plantations in Lada Mandala Jaya Village will soon obtain RSPO certification.
Project Impact
Total area covered by the project
393.64 Ha
Number of smallholders benefitting from this project
214
Number/percentage of women supported by this project
9.81% women in this project
How you can support
The group members are in their third year of being certified, and they need assistance from third parties to maintain their livelihoods while upholding sustainable practices on their plantations. Their efforts should be valued by downstream players such as Consumer Good Manufacturers and retailers.
Please show your support by purchasing RSPO Smallholder Credits. With your help, they can be better equipped to raise awareness of the benefits of sustainable oil palm farming and protect the environment around us. 
IMAGE GALLERY