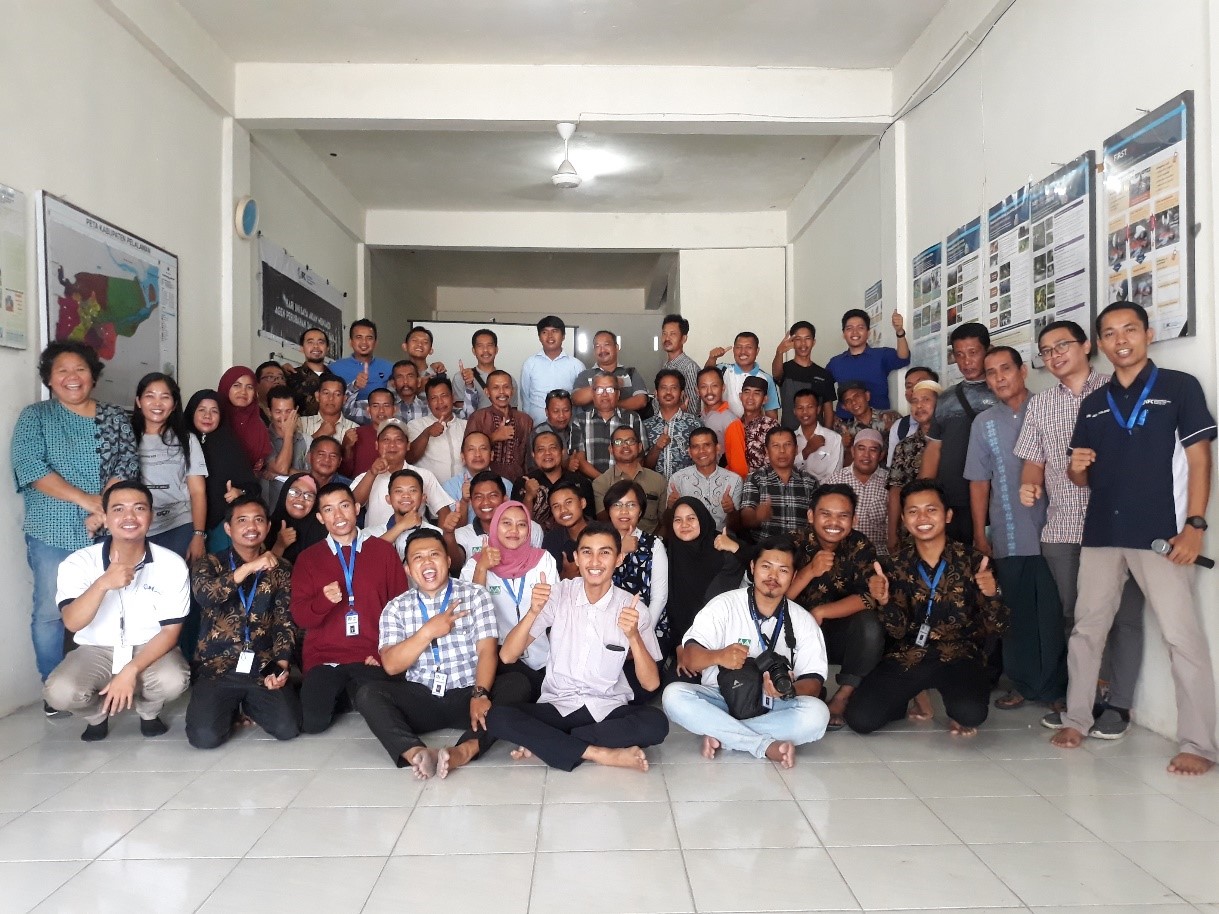 About the group
Number of smallholders: 496 = 391(M), 105 (W)
Total Area: 1828.92 Ha
On-going Facilitator: International Finance Corporation – Musim Mas
Location of project: Jl. Lintas Timur KM. 34, Sekijang Village, Bandar Sei Kijang Sub-District, Pelalawan District
Country: Indonesia
Province: Riau
SUSTAINABILITY JOURNEY STORY
A Community-Driven Effort To Achieving Sustainable Practices
Joko Prasetyo was a newcomer to the Indonesian Palm Oil for Smallholders Development (IPODS) project. A former chicken farmer who converted to growing oil palm, Prasetyo joined in early 2019, almost four years after the project was launched by International Finance Corporation (IFC) and Musim Mas in Indonesia. Prasetyo was a fast learner and within ten months of receiving assistance and training, he was elected as the head of the farmer group association. 
From about 10,000 farmers who have received training, the IFC and Musim Mas project team selected eligible farmers in the Pelalawan Siak area to undergo RSPO certification. Based on this selection, the project established a new association with approximately 300 smallholders working to meet the RSPO Principles & Criteria. 
"By the time the association was established, most members were already applying best management practices in maintaining our farms, such as fertilizing and upkeep, because they see the results in yields," said Prasetyo. "However, members still had progress to make when it came to safety requirements such as wearing personal protection equipment or avoiding chemical releases in riparian areas," Prasetyo elaborated. 
"Farmers often wondered, 'Why does RSPO require us to behave like a plantation company?' It takes time to educate farmers, but with proper training they embrace the concept of protecting the environment, their own safety, and society."  
In August 2020, less than one year after the start of their training, the association passed the audit and was awarded RSPO certification. In early 2021, the project team assisted the association to find buyers for its RSPO credits. Right before the start of Ramadan, the fasting month for Moslems, the association disbursed the money received from their RSPO credits to its members. 
Prasetyo added, "The first tranche of the payment went into paying for a national health insurance program (BPJS kesehatan and ketenagakerjaan) for one year. This was because a member of the association unfortunately passed away, and his family received compensation from BPJS." Given that accidents can occur during harvesting, this prompted farmers to brainstorm ways of covering health insurance for harvesters who regularly work for them.
"When accidents happen, many farmers can only afford a partial payment of the medical bills incurred by injured harvesters. As a result, these harvesters are faced with paying for their remaining medical costs while farmers lose valuable production. By paying a small fee for BPJS, farmers can provide medical protection to their workers while maintaining high levels of productivity," added Prasetyo. 
Now, the preparation is underway for the surveillance audit in August. "Given that the Association is still in early stages, we require outside assistance. For instance, those of us in the internal control system are still adapting to our roles. Without any assistance from the IFC-Musim Mas team, I don't think we can do it ourselves," added Prasetyo. 
Unlike scheme smallholders who manage their farms in the same neighbourhood, independent smallholders within each association are usually scattered and located across a vast area. "Our members come from 11 villages and two hamlets. As a result, it takes about 1.5 to 2 hours to drive from one end to the other end," Joko said. 
Independent smallholder farmer associations are faced with another challenge: Vast diversity among members. This presents difficulties with grouping and training new members. 
"Members come from all backgrounds. Some are native farmers while others are migrant farmers. The association comprises many different age and ethnic groups. Additionally, some speak different languages and have different levels of education. With members from many different walks of life, we need to make sure everybody is on the same page," Prasetyo said.  
Despite these challenges, Prasetyo is optimistic that the association can maintain its certification in the upcoming surveillance audit. "Praise to God, the association is becoming stronger day by day. As long as members work to continue our high sustainability standards, I believe that we can achieve anything while maintaining our RSPO certification," concluded Prasetyo.   
Project Impact
Total area covered by the project
1828.92 Ha
Number of smallholders benefitting from this project
496
Number/percentage of women supported by this project
21.17% women in this project
How you can support
With the organisation in their first year of being certified, they need assistance from third parties to maintain their livelihoods while upholding sustainable practices on their plantations. Their efforts should be valued by downstream players such as Consumer Good Manufacturers and retailers.
To that end, please show your support by purchasing RSPO Smallholders Credits. With your help, the group will be able to dedicate more resources to promoting labour rights, safety, and environmental protection.
IMAGE GALLERY