The Shared Responsibility framework has been in effect since October 2019 and consists of 29 requirements covering four thematic areas. The Shared Responsibility (SR) requirements act as a roadmap for RSPO members to lead their sectors' sustainability transformation through a shared vision, and act as a catalyst for change to make sustainable palm oil the norm. All Ordinary, non-grower RSPO members1 are subjected to the Shared Responsibility Framework and report their performance against the SR volume requirement in their Annual Communication of Progress (ACOP) report and publicise additional sustainability commitments in their MyRSPO profile.
---
1 Excluding members that only hold a Trader or Distributer licence.
Members' public commitment on policies, plans and actions
In March 2021, the RSPO Secretariat rolled out a new reporting mechanism in members' MyRSPO profile for them to publish their commitments to the SR requirements. These public commitments are made by providing evidence of implementation or a 'Declaration of Support'. Currently, members report on a subset of the SR requirements covering the following topics:
Transparency & Legality
Social
Environmental

Complaints & Grievances mechanism

Human Rights policy

Labour & Labour Rights policy

Land Use policy

Occupational Health & Safety policy

Support smallholder inclusion

Greenhouse Gases (GHG) policy
Within four months after rolling out this new reporting mechanism, 11% of applicable members had reported commitments against the SR requirements. Within one year, reporting nearly doubled to 20%. RSPO will engage with members who have not yet reported any commitments on their profile, to remind them about their accountability and collective responsibility to contribute to their sectors' sustainability transformation and drive positive impacts throughout the entire palm value chain.
Uptake targets
A key component of RSPO's Shared Responsibility Framework is driving uptake of sustainable palm oil. To achieve this, supply chain actors have to comply with the SR volume requirement which sets annual percentage point uptake targets (see in the table below), also referred to as 'uptake targets'. Compliance with these uptake targets is determined based on members' reported palm (kernel) oil volumes in ACOP.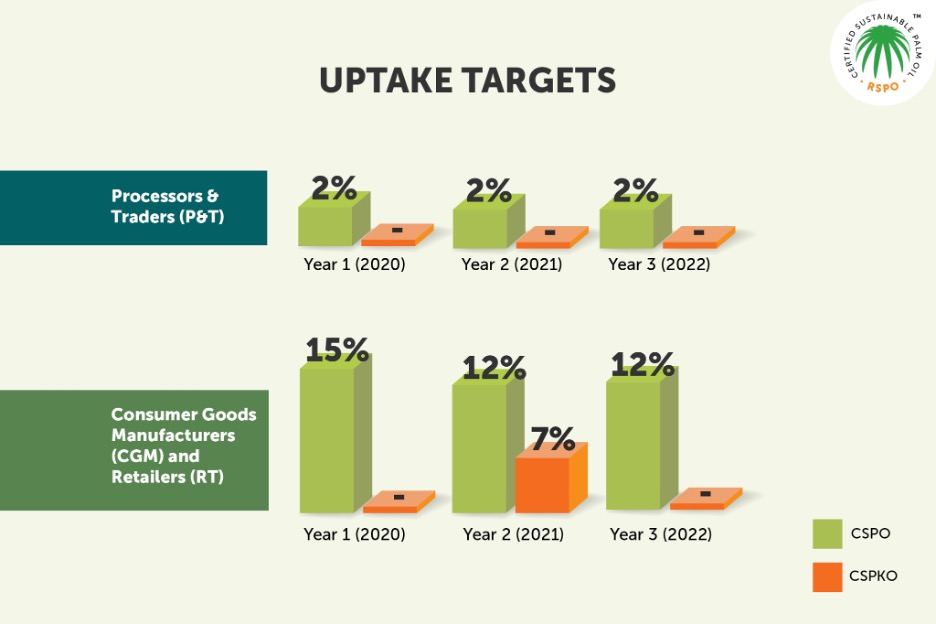 We see an improved performance in terms of the percentage of members meeting their CSPO uptake target in the first two years of SR implementation. Retailers are performing well with 72% of members meeting their CSPO uptake target. A majority of 59% of Consumer Goods Manufacturers (CGM) met their CSPO uptake target, while results of Processors and Traders (P&T) were mixed with 41% having met their targets in 2021. We do note that as intermediate nodes in the supply chain, the ability of P&Ts to meet targets is dependent on their CGM and Retailer clients, and P&T members (with the exception of animal feed producers) are fully dependent on physical volumes and not able to cover any volumes by buying RSPO Credits. There was an increase of 10% of RSPO members to whom the uptake targets have been applied to and this contributed to a 914,000 MT increase in CSPO consumption for 2021.
''It is encouraging to see that RSPO members are increasing efforts to meet the Shared Responsibility requirements. We see members progressively move from RSPO Credits, to Mass Balance and Segregated. In case members cannot fulfil the uptake target, we encourage them to buy RSPO ISH Credits. This is a great way to not only contribute to meeting the target, but also support smallholder inclusion in the supply chain which is one of the priority areas within the Shared Responsibility Framework'' says Dr. Inke van der Sluijs, Market Transformation Director, RSPO.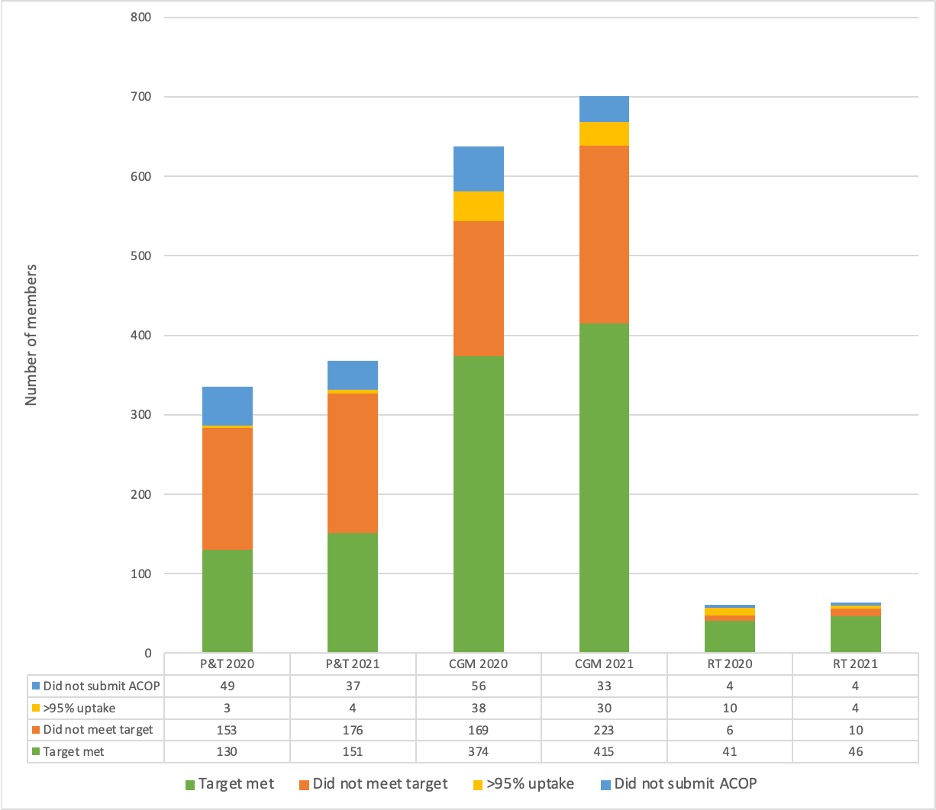 Based on the tightness of the Certified Sustainable Palm Kernel Oil (CSPKO) market, CSPKO uptake targets were only applicable to CGM and Retailers in 2021. Despite the challenging environment, members on average continue to increase CSPKO volumes where possible. In 2021, 54% of the CGM members and 67% of the RT members met their CSPKO uptake target. The CSPO and CSPKO uptake targets are updated annually to account for growth in the overall market to ensure that the targets remain relevant in meeting the goal of matching supply and consumption. The Shared Responsibility Working Group will give their recommendations to the Board of Governors (BoG) on whether there will be CSPKO uptake targets again for 2023. Providing BoG approval, the uptake targets for Year 4 (2023) will be announced at the beginning of 2023.
What's next?
As we are at the start of this transformation journey where the Shared Responsibility framework encourages all RSPO members to be leaders of change, the RSPO Secretariat is developing additional guidance and a Verification Manual to further support the implementation of the SR requirements. This manual aims to ensure that the SR requirements are acknowledged and upheld by members, and it introduces incentives and sanctions mechanisms, as well as additional verification processes on top of the current self-reporting process to improve credibility of reporting. Stay tuned!
If you have any questions or would like support to improve your Shared Responsibility performance, please contact [email protected].