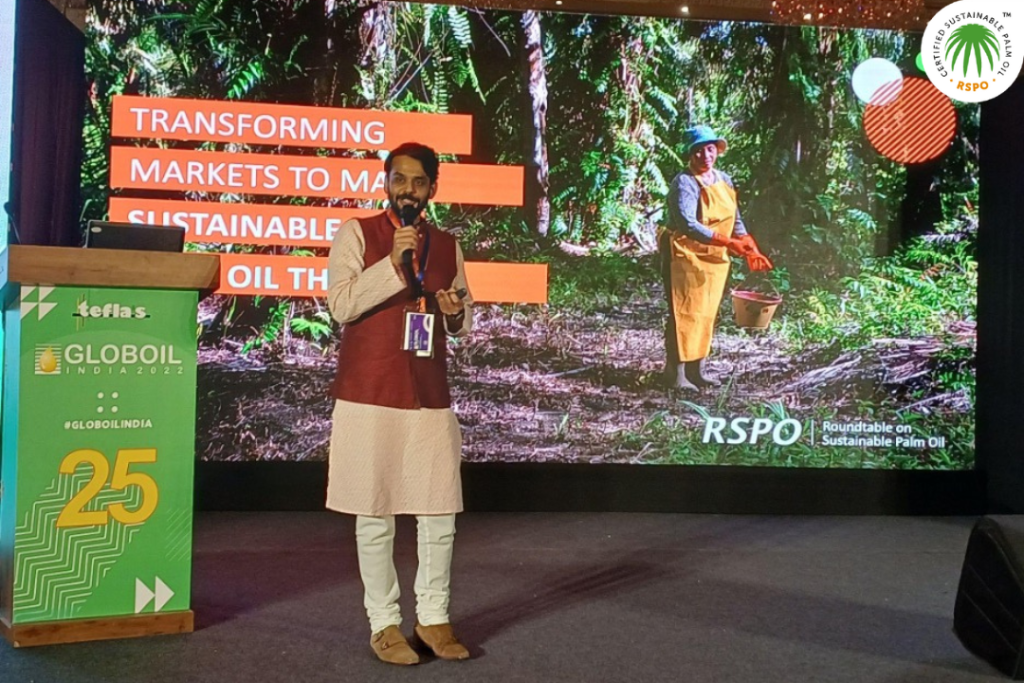 RSPO emphasises the importance of integrating sustainability into palm oil businesses as Globoil India wraps up its 25th anniversary in Goa
Marking its 25th year anniversary, Globoil India wrapped up its annual conference on edible oils in Goa, highlighting over two decades of exponential growth with the promise of introducing a new series of services and innovations to reflect changes in consumer demand. Joining hands with RSPO as Globoil India's sustainability partner, the event saw the participation of leading edible oil companies in India.
Speaking at the conference, RSPO Deputy Director, Market Transformation (India and China), Ashwin Selvaraj said, "Integrating sustainability into business is an opportunity to create value and manage risk at all stages of the supply chain – improving farmer incomes, ensuring business continuity in the long term, and mitigating climate change.
Selvaraj highlighted the achievements and impacts from choosing sustainable methods, but also expounded on the challenges of embarking on the sustainability journey in India. Citing a recent study carried out by WWF on RSPO price premiums and credit markets surrounding Certified Sustainable Palm Oil (CSPO) and Certified Sustainable Palm Kernel Oil (CSPKO), Selvaraj highlighted that there is a business case for certification.
The Globoil India finale at Goa also saw discussions on the technological developments in the vegetable oil industry and trends on policy developments around the globe, traceability and price outlook for the vegetable oil and sugar sector.
"We are happy to have collaborated with Tefla's, the organisers of Globoil India, with its vision to get the vegetable oil industry together to discuss key developments and make sustainability a priority topic of discussion in the sector," said Selvaraj. "As we embark on this journey towards self sufficiency, it is now up to us, as the industry and civil society, to demonstrate our commitment to sustainability and collaborate to work towards a more sustainable future."
Boosting India's Palm Oil Self-Sufficiency
The Globoil India conference takes place at an opportune moment for India, which remains the world's largest importer of palm oil, with over 9 million tonnes imported annually, or nearly two-thirds of its total edible oil imports. Seeking to counter the country's independence on palm oil producing countries and boost employment among the Indian population, the Indian government recently launched the National Mission on Edible Oils – Oil Palm (NMEO-OP) in 2021. This initiative's overarching aim is to boost India's self-sufficiency and help bolster farmer incomes as incentivising palm oil production not only reduces the country's dependence on imports but also helps farmers benefit financially from the growth and expansion of the market.