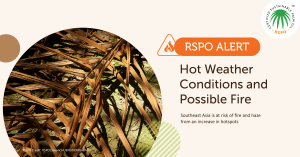 In the coming months,  Southeast Asia is at risk of fire and haze from an increase in hotspots. This is due to a number of factors:
The El Niño-Southern Oscillation (ENSO) will be in a El Niño phase, which is associated with drier weather conditions in Southeast Asia;

Climate change is causing temperatures to rise, which is making the region more susceptible to wildfires; and

Deforestation and land clearing continues to increase the risk of fires in Southeast Asia.
The Situation
The RSPO is monitoring the situation closely and comparing data across our records. Our findings indicate the following:
There will be an increase in hotspots in the following three weeks due to drier conditions in the southern region and mainland Southeast Asia;

Our records over the past two years have shown a 39% increase in the number of hotspots between May and July, and it is projected to continue on a upward trend this year, increasing by as much as 50%; 

The average highest number of hotspot alerts occur between the months of August and September;

Based on previous hotspot analysis from 2021-2022 (collected from NASA MODIS C-61 satellite), the hotspot trend shows El-Nino predominantly occurs between August and September.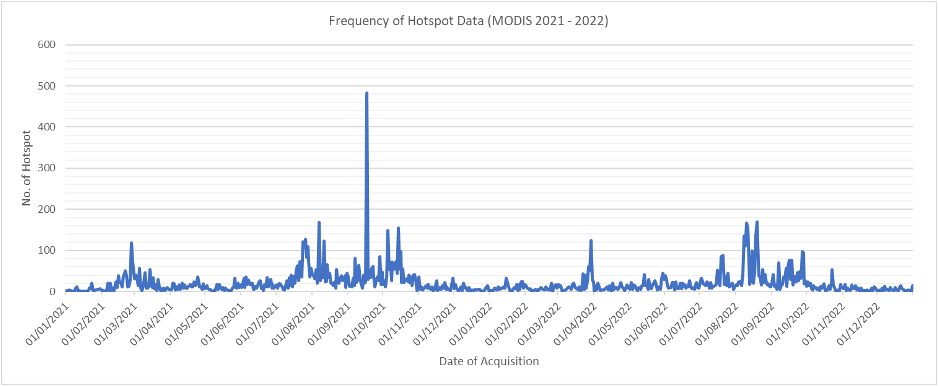 Furthermore, other reports have indicated as follows:
The ASEAN Meteorological Centre has indicated that the El Niño Southern Oscillation (ENSO) monitoring systems predict ENSO-neutral conditions to continue during May and June 2023 and El Niño conditions to develop from July and August 2023. However, there is still a chance of ENSO-neutral conditions in the second half of 2023;

This is also supported by the Rainfall tercile summary predictions (figure below) by the ASEAN Specialised Meteorological Centre (ASMC), which indicates below-normal rainfall predictions in the southern ASEAN Region (Borneo, South Sumatra and a part of Java Island).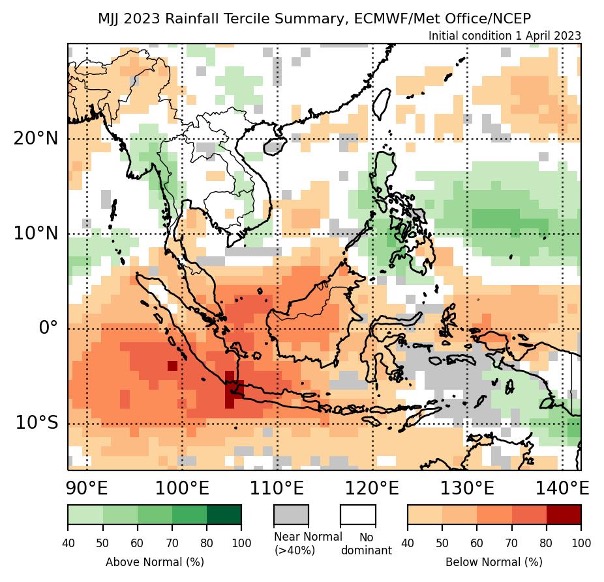 Take Action to Prevent Fire
As a result of these factors, there is potential for an increase in hotspots and fire in Southeast Asia in the coming months. This could pose a serious safety risk to oil palm estate workers, local communities and neighbouring areas, and also the possibility of transboundary haze.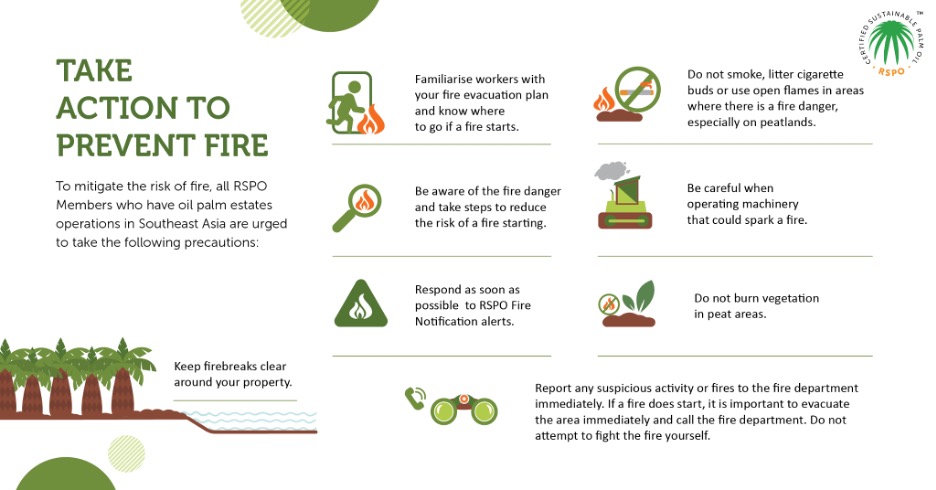 To mitigate the risk of fire, all RSPO Members who have oil palm estates operations in  Southeast Asia  are urged to take the following precautions:
Familiarise workers with your fire evacuation plan and know where to go if a fire starts.

Report any suspicious activity or fires to the fire department immediately.

If a fire does start, it is important to evacuate the area immediately and call the fire. department. Do not attempt to fight the fire yourself.

Be aware of the fire danger and take steps to reduce the risk of a fire starting.

Do not smoke or use open flames in areas where there is a fire danger. 

Do not smoke and litter cigarette buds on peat areas.

Be careful when operating machinery that could spark a fire.

Keep firebreaks clear around your property.

Do not burn vegetation in peat areas.

Respond as soon as possible  to RSPO Fire Notification alerts.
In addition to these precautions, workers on plantations should also be aware of the safety risks associated with working in peat areas. Peat soils are highly flammable, causing fires to spread quickly and burn for weeks or even months. When peat soils burn, they release thick, black smoke that can travel long distances.This smoke can cause respiratory problems, such as coughing, wheezing, and difficulty breathing. If a fire starts in a peat area, it can be very difficult to extinguish and action must be taken urgently.
Safety Measures for Operations in Peat Areas
In addition to the general safety precautions listed above, there are a number of specific safety measures that should be taken when operating in peat areas. These include:
Using fire-resistant equipment.

Prepare fire fighting facilities to be on standby during dry season (e.g., ensuring fire trucks with truck mounted water tanks are available).

Keep a portable fire extinguisher on hand.
By taking these precautions, workers can help to reduce the risk of fire and protect themselves and their communities.
Safety Measures for Operations Nearby Local Communities
When operating near local communities, it is important to be aware of the potential impact of fire on the community. This includes the potential for damage to property, loss of life, and disruption to the community.
To mitigate the risk of fire, it is important to work with local communities to develop a fire prevention plan. This plan should include the following elements:
Public education and engagement about fire safety

Firebreaks around the community

A fire alarm system

A fire evacuation plan
By working with local communities, oil palm estate workers can help to reduce the risk of fire and protect lives.
The RSPO Integrity Unit will continue to monitor this situation and will send out e-alerts to specific RSPO members if there is a hotspot detected within their respective concession. You can also proactively participate in the monitoring by visiting RSPO Hotspot Hub here.
References