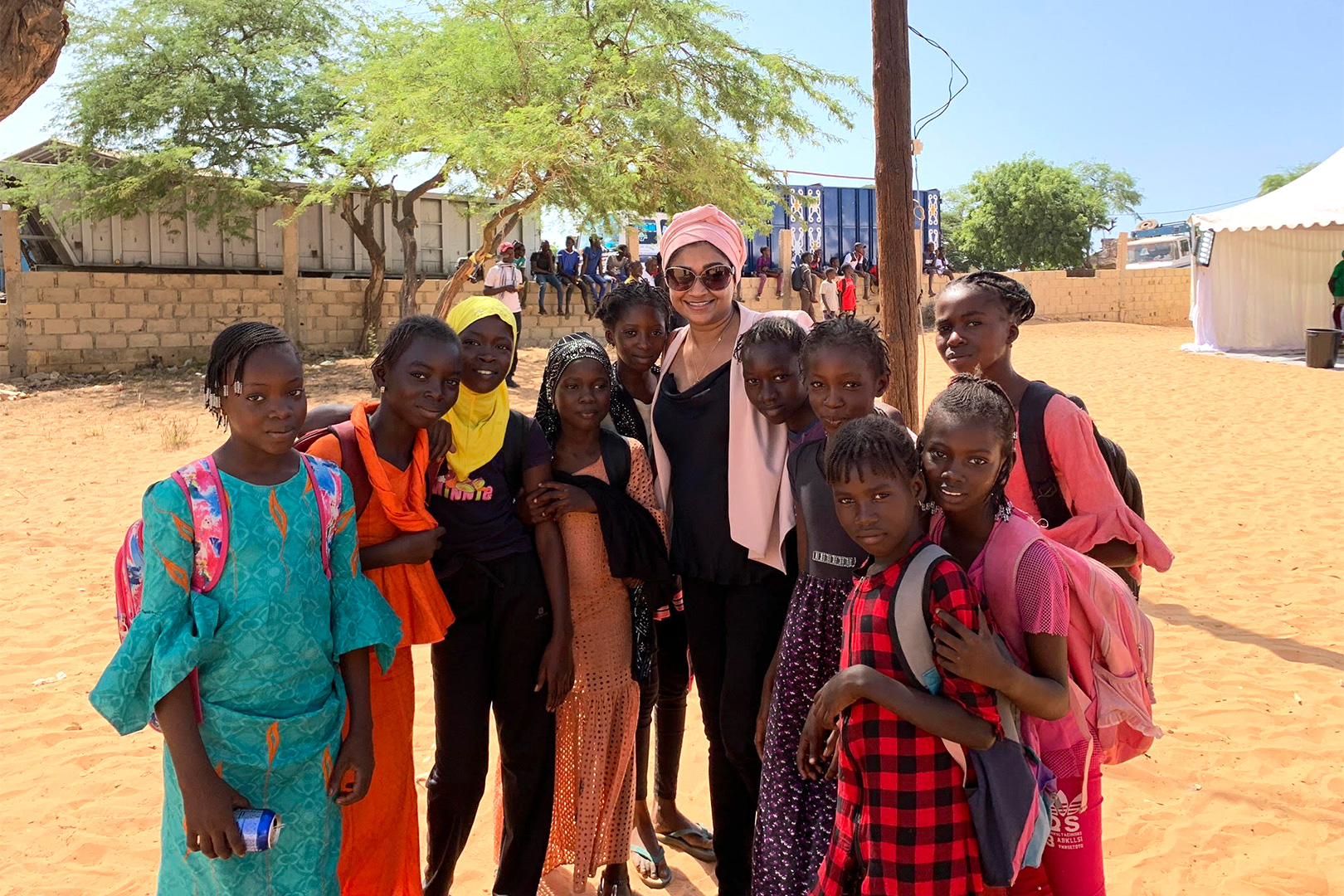 RSPO's new Deputy Director of Communications, Sangeetha Umakanthan, has lived several lives in her professional career – from starting out as an accountant-in-training in Australia and Malaysia (something she knew right away she wasn't cut out for) to reinventing herself as a communications consultant, which took her on a colourful journey across the Middle East and Africa.
As a communications consultant, she has carried out a diverse range of projects including designing strategies for Qatar's Hamad International Airport, to working with African innovators and startups, writing for the Boston Consulting Group, and most recently consulting for the Presidency of Côte d'Ivoire, amongst others. A self-confessed bookworm and Vipassana meditation practitioner who has also volunteered as a teacher in the Himalayan foothills, Sangeetha has come full circle on this stage of her journey, having returned to Malaysia to work in the sustainable palm oil space.
As a Malaysian, growing up with her cousins on estates and plantations, palm oil has been an integral part of Sangeetha's childhood, giving her a deep affinity for the industry. We caught up with Sangeetha on what led her to RSPO and where she plans to go with it.
You've had quite a diverse and unique career trajectory before landing your current role as RSPO's Deputy Director of Communications. What led you to eventually work in the sustainable development space?
The last seven years of my career gave me a glimpse into the world of sustainable agriculture, ranging from coffee cultivation in Sumatera to cotton in West Africa. Just before I joined RSPO, I was a consultant for the Presidency of Côte d'Ivoire, which gave me deeper insights into the issues plaguing the country's cocoa sector – living income for farmers, deforestation, and child labour – very similar to the issues in the palm oil industry. It was during this time that I fully appreciated the correlations between poverty and sustainability, and the widespread inequalities that exist. I wanted to play a role in addressing these issues. That's when I began looking for a sustainability-led role.
What do you think made you stand out among the competition?
I believe it was my global experience, especially in impact development and sustainable commodities. When I first returned to Malaysia, I felt certain that I wouldn't be able to find a global role based on home turf. So when this position came up, I jumped at the opportunity.
I was thrilled to learn that my role would also include regions like Africa, so my experience there will not go to waste. I feel very strongly about Africa and Asia being the two continents of the future. These are two resource-rich continents, and I want to play a role in driving greater collaboration between the two through my work at RSPO.
What would you say are the main communication challenges of sustainable palm oil?
The biggest communications challenge the sector is facing is a complete lack of awareness of sustainable palm oil, not just in the Western world but here in Asia as well.
It's infuriating to read about the broad misconceptions about the palm oil industry, especially when there is a wealth of data to show that palm oil can be grown sustainably, that deforestation linked to oil palm is on the downtrend. Unfortunately, these misconceptions continue to spread in the mainstream media.
Thankfully, we live in the age of citizen journalism, which has opened up so many other channels we can tap into to paint a more balanced picture. I'm looking forward to busting myths about palm oil!
As you've pointed out, the media and communications landscape has evolved significantly, how would you leverage new media channels to tell the sustainable palm oil story?
As an entity, we have to go digital first. This is the approach I want to take for communications and it's really good to see that as an entity, we are moving towards that path. So expect to see more digital work, whether it´s podcasts, videos, documentaries or movies. If we want to get better at telling the sustainable palm oil story, we need to embrace the digital pathway in a much greater way.
What would you like to accomplish in your first year at RSPO?
I have joined RSPO at a very exciting time when the organisation is preparing to celebrate its 20th anniversary. This is an opportune time to document and highlight the breadth of work that has been done in the past two decades. We have two decades worth of success stories and milestones to share with the world. Equally, there are opportunities to shape how the industry evolves in the future, and along with it RSPO's own reputation as the driving force in this future.
On a consumer level, I feel very strongly about the need to educate the masses, and to create natural ambassadors of the millions of Malaysians and Indonesians who live and work in Western countries to do their part in telling the sustainable palm oil story.
It falls upon us to find other avenues and channels to tell the positive stories. That is why digital is so important, there is no end to the channels and tools we can use in this regard.
Finally, as a self- confessed bookworm, what book would you recommend?
"Many Lives, Many Masters" by Brian Weiss – that one really blew my mind. I even started a book club about it before!