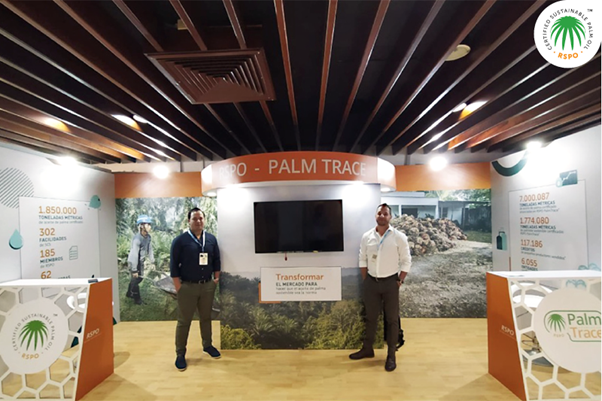 RSPO gave a presentation upholding the importance of the domestic market in boosting the production of RSPO certified sustainable palm oil at the FEDEPALMA International Palm Oil Conference in Cartagena, Colombia.
The city of Cartagena, Colombia, set the stage for the XX International Palm Oil Conference, organised by the Federation of Oil Palm Growers of Colombia (FEDEPALMA) on 27-29 September 2022. Centred around the theme, "The Transformative Power of Oil Palm", the conference highlighted the vital role of the palm sector in Colombia in generating jobs and income for rural communities, conserving natural resources, and driving socioeconomic development and poverty reduction by accelerating the transition to sustainable livelihoods for small-scale farmers. Over 2000 participants from over 15 countries flocked to the conference, one of the most important events of the palm oil industry in the world.
Francisco Naranjo, RSPO Head of Latin America, gave a presentation centred on the importance of the local market in boosting the production of RSPO certified sustainable palm oil (CSPO). Key points of his presentation focused on the fact that 75% of the palm oil produced in Latin America is consumed in the local market, while only 25% is exported, mainly to Europe and to a lesser extent, to the US. This high percentage of local consumption clearly shows the importance of the region's markets when  fostering a demand for sustainable palm oil products.
Naranjo presented RSPO Latin America's strategy to transform the local market towards a greater demand for sustainable palm oil products, which is built on three workstreams: increasing consumer awareness through coordinated work with environmental and social NGOs in the region; jointly working with consumer goods manufacturers and local retailers; and creating strategic alliances with producer associations in Latin American producer countries to mobilise the market.
Latin America, role model region
Also present at the conference was Inke Van Der Sluijs, RSPO Director of Market Transformation, who said, "It was very inspiring to attend the FEDEPALMA conference in Cartagena, which sparked a lot of interest in sustainable palm oil. Latin America is leading the transformation to sustainable production globally and the market interest should follow suit. The RSPO team is there to support our members."
The XX International Palm Oil Conference took place at a time when the Latin American region continues to be a model for sustainability. According to the RSPO ACOP 2021 report, among the five main oil palm growing countries and regions, Latin American growers are maintaining their strong performance with 27% of the region's total production as CSPO. A further potential 43% are in line for certification. In 2022, one third of the palm oil produced in the Latin American region complies with the RSPO Principles and Criteria, which has positioned Latin America as a leader in the production of sustainable palm oil globally.