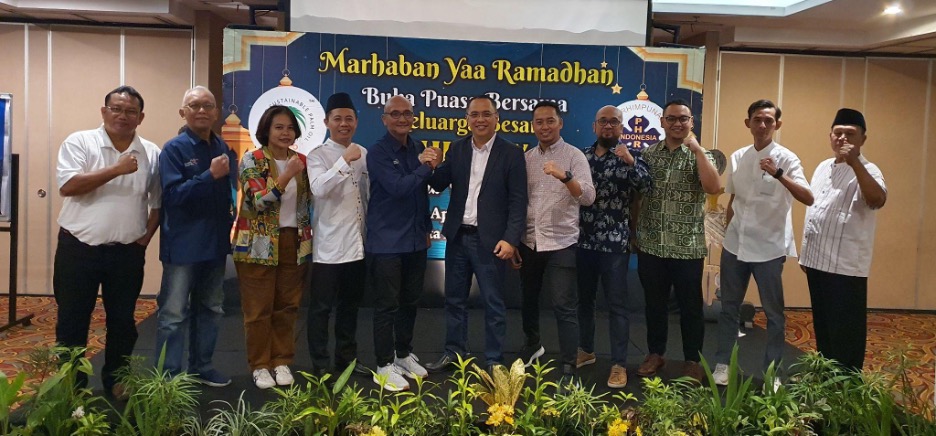 PHRI Yogyakarta gets serious about the use of CSPO in its attempt to make the province a leader in achieving the UN Sustainable Development Goals. Photo: RSPO
Yogyakarta, Indonesia, April 14, 2023: The  Indonesian Hotel and Restaurant Association (PHRI) and Yogyakarta Regional Leadership Agency (BPD) today expressed their commitment to support Yogyakarta province in becoming the pioneer local government to uphold sustainability standards as per the United Nations Sustainable Development Goals by using palm-derived products that are produced in a certified responsible way. The announcement was made at a PHRI member's meeting held at The Alana Yogyakarta Hotel & Convention Centre.
The Roundtable on Sustainable Palm Oil (RSPO), as the official technical partner, is set to carry out a series of activities to mainstream the use of certified sustainable palm oil (CSPO) products in hotels and restaurants. Both hospitality industries are consumers of palm-based products – cooking oil, margarine, noodles, soap, shampoo, toothpaste, and others.
The activities would include; 1) increasing understanding and awareness of members of the PHRI Yogyakarta and stakeholders involved in the palm oil industry; 2) use of RSPO CSPO products; and 3) consumer campaigns related to the use of CSPO products.
"Yogyakarta's tourism industry must be at the forefront of sustainability," said Chairman of the DIY Regional Tourism Promotion Agency (BPPD), GKR Bendara.  
"Yogyakarta has the development philosophy of the Memayu Hayuning Bawana, where humans have an obligation to maintain the harmony of the universe which can not be separated from human relationships with God, fellow human beings and with the natural environment. The relationship between humans and their environment can be maintained by preserving nature, because if nature is damaged, humans aren't able to live well. By using CSPO product, PHRI Yogyakarta is able to implement this philosophy of life and at the same time support local government policies that are increasingly environmentally, socially, and welfare-oriented."
The Chairperson of PHRI  Yogyakarta, Deddy Pranowo Eryono said, "domestic and foreign tourists are increasingly aware and understanding towards environmental and sustainability issues. Soon they will be selective towards products that apply responsible business principles. The more parties involved in this quest to make our industry sustainable, the better it will be for Yogyakarta to answer the needs of its consumers."
PHRI is an organisation that prioritises the development and improvement of tourism, and is a unifying forum in creating a business climate that cares for the dignity and status of entrepreneurs engaged in tourism, hospitality and the food and beverage services, as well as educational institutions.
Mahatma Windrawan Inantha, RSPO Deputy Director Market Transformation, Indonesia, said at the event, "I really appreciate the good intentions of PHRI Yogyakarta with this joint commitment for its members to start using CSPO  products. It is time for businesses to look into remaining relevant when responding to the needs of consumers who are increasingly concerned about environmental and social issues. RSPO fully supports Yogyakarta's tourism industry's intention to move towards more sustainable sourcing and producing."
Sustainable palm oil in the hotel and restaurant industry
The use of products made from palm oil can be easily found in this business sector. This can be seen in the use of cooking oil and margarine in the process of making food in restaurants. Meanwhile, the hotel's soap, shampoo and toothpaste also use palm oil as an ingredient.
The transition towards using CSPO based ingredients is expected to have a positive impact on the province of Yogyakarta as it aims to pioneer the sustainability movement in the Indonesian tourism industry.
---
About RSPO:
The Roundtable on Sustainable Palm Oil (RSPO) was formed in 2004 with the objective of promoting the growth and use of sustainable oil palm products through credible global standards and engagement of stakeholders. RSPO is a not-for-profit, international, membership organisation that unites stakeholders from the different sectors of the palm oil industry including oil palm producers, palm oil processors or traders, consumer goods manufacturers, retailers, banks and investors, environmental or nature conservation NGOs, and social or developmental NGOs.
This multi-stakeholder representation is mirrored in the governance structure of RSPO such that seats in the Board of Governors, Steering Committees and Working Groups are fairly allocated to each sector. In this way, RSPO lives out the philosophy of the "roundtable" by giving equal rights to each stakeholder group, facilitating traditionally adversarial stakeholders in working together to reach decisions by consensus, and achieving RSPO's shared vision of making sustainable palm oil the norm.
The seat of the association is in Zurich, Switzerland, while the secretariat is currently based in Kuala Lumpur with satellite offices in Jakarta, London, Zoetermeer, Beijing, Bogotá and New York.
About PHRI Bali:
The Indonesia Hotel and Restaurant Association (PHRI) Bali is the umbrella organisation that manages the hotel and restaurant industry in Bali. PHRI Bali is the chapter of PHRI which was established on February 9th, 1969, and is a continuation of the Indonesia Tourist Hotel Association. Currently PHRI Bali has approximately 300 members, most of them are located in Badung Regency.

For further information, kindly contact:
Zeeneeshri Ramadass (Zee)

APAC Communications Manager, RSPO

T: +60176571527

Mahatma Windrawan Inantha

RSPO Deputy Director Market Transformation, Indonesia

T: +628111717989, +62-21-2506417