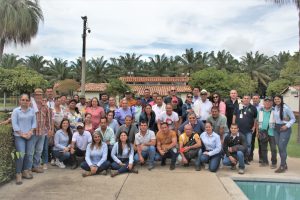 The Entrepalmeros are the first smallholder group to be RSPO Certified in Colombia.
Cultivando sostenibilidad, cosechando futuro ("Cultivating sustainability, harvesting the future") – the slogan of the Colombian smallholder group, Unión Temporal Entrepalmeros, has come to life as they became the very first independent smallholders in the country to obtain RSPO certification.
In March 2023, The "Entrepalmeros" received their certificate for Milestone B, the final phase in the Independent Smallholder stepwish certification approach, encompassing a certified area of 897.53 hectares, with a fresh fruit bunch (FFB) volume of 15,456 MT.
This achievement makes Colombia the second country in Latin America to gain certification within two years following the certification of four smallholder groups in Mexico in 2022, marking yet another milestone for sustainable palm oil in the region.
A second Colombian group of 68 smallholders, representing approximately 1000 hectares, has also officially initiated the RSPO certification process, aiming for certification by 2024.
"The recent certification of the Entrepalmeros is a prime example of how collaboration and commitment bear fruit," said Bella Sosa, RSPO Smallholder Manager for Latin America. "Their success sets an inspiring example for palm oil smallholders not only in Colombia but also in Latin America, and we hope to see more groups coming together in the near future to embrace the path towards sustainability."
Cultivation and collaboration
The Entrepalmeros group traces their beginnings to 2016 when 42 oil palm farmers, with a cultivated area of 900 hectares in the César and Santander regions in northern Colombia, began implementing good agricultural, environmental and social practices. Supported by Palmas del César, a Colombian company focused on palm oil cultivation and extraction, their efforts were aimed at improving the economic and social conditions of the labourers in the municipalities of San Alberto, San Martin, Sabana and Rionegro.
Other key players that have contributed to this important milestone include Alianza Team, Bajo el Palmar Foundation, Solidaridad Network and Unilever, who introduced activities related to legal, environmental, social, and labour matters, a cartographic survey of the Entrepalmeros' cultivated areas, and training and implementation on the RSPO Standards.
Between 2018 and 2019, the group carried out a baseline diagnostic study as well as a survey of high conservation value areas, social and environmental impact assessments, and land use change analyses.
One unique aspect of the Entrepalmeros is that it is led by an all-female senior management team, who have been steering the shift towards sustainable practices for the smallholders.
"We four women got together in 2016, providing smallholders with support on good agricultural, environmental and legal practices," said Karen Quintero, of the Palmas del César Change Management Unit. "We also carry out all risk assessments, chemical and tool warehouse inspections in compliance with the recommendations outlined by the RSPO Independent Smallholder Standard."
"RSPO Certification has allowed us to transfer knowledge to small and medium producers and promote the implementation of sustainable palm oil cultivation practices," shared Viviana Dueñas, from the same management team.
Latin America, region with broadest coverage of RSPO Certification
This latest certification of the Colombian smallholders reinforces Latin America´s position as the world's fastest growing region in terms of certification. The latest RSPO Annual Communication of Progress (ACOP) 2021 shows that among the five main growing countries and regions, Latin American growers are consistently performing well with production of CSPO representing 27% of the region's total palm oil production. A further 43% is in line for certification. RSPO membership therefore represents 70% of total palm oil production in Latin America, a broader coverage than in Indonesia (38% under RSPO membership, 19% certified) or in Malaysia (39% under RSPO membership, 19% certified).
This milestone for Colombia comes at an important time as RSPO prepares to host the first RSPO Inter-American Conference 2023 from 30 to 31 May in Miami, USA, spotlighting the role of the Americas as leaders for sustainable palm oil.