Date: 19 January 2023
Time: 5:00 - 7:00 PM (GMT+8)
Location: Online (via Zoom)
Event Type: Forum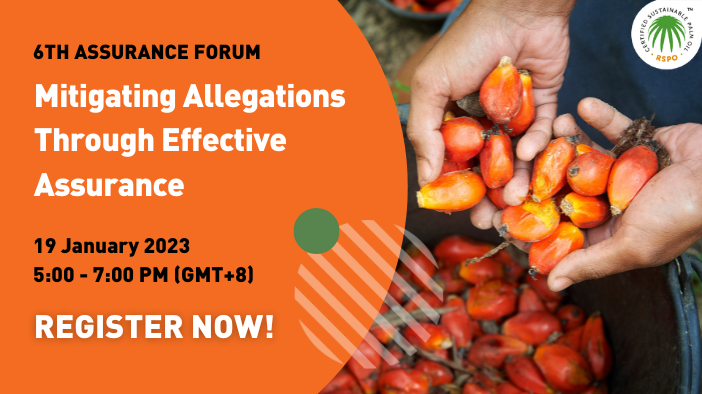 We are pleased to announce that RSPO will be hosting the next virtual Assurance Forum, with the support of the Assurance Standing Committee (ASC). The Assurance Forum welcomes both RSPO and non-RSPO members to discuss and provide constructive feedback to further improve RSPO Assurance Systems. 
The theme for the sixth edition of this forum is "
Mitigating Allegations Through Effective Assurance
". Please find more details in the agenda below.
Time
Topic

5:00 PM

Welcoming remarks from ASC Co-Chair

Housekeeping Rules

5:10 PM

Setting the Scene 

A number of allegations reported in the public domain are not lodged under the RSPO Complaints and Appeals Procedure.The RSPO Secretariat wishes to explore this broader spectrum of allegations with participants of the Assurance Forum to help coordinate effective responses and credible implementation of assurance.

5:15 PM

RSPO Media Monitoring Process

5:35 PM

Interactive Session 1 (gathering feedback via Mentimeter)

Approach towards allegations

Verifying allegations

Methods to inform the public

5:55

PM

Break

6:00

PM

Lessons Learnt: Verification Assessments of Sime Darby Plantation Berhad and the Socfin Group

6:20

PM

Interactive Session 2 (gathering feedback via Mentimeter)

How can certification bodies and accreditation bodies deal with allegations?
How to respond to further allegations after a verification is concluded
Platform for dialogue between members and stakeholders

6:40

PM

Questions and Answers Session

6:50

PM

Summary of Feedback from Mentimeter

Closing Remarks by ASC Co-Chair
To attend , kindly register HERE by Wednesday, 18 January 2023. We look forward to your participation at the next Assurance Forum!