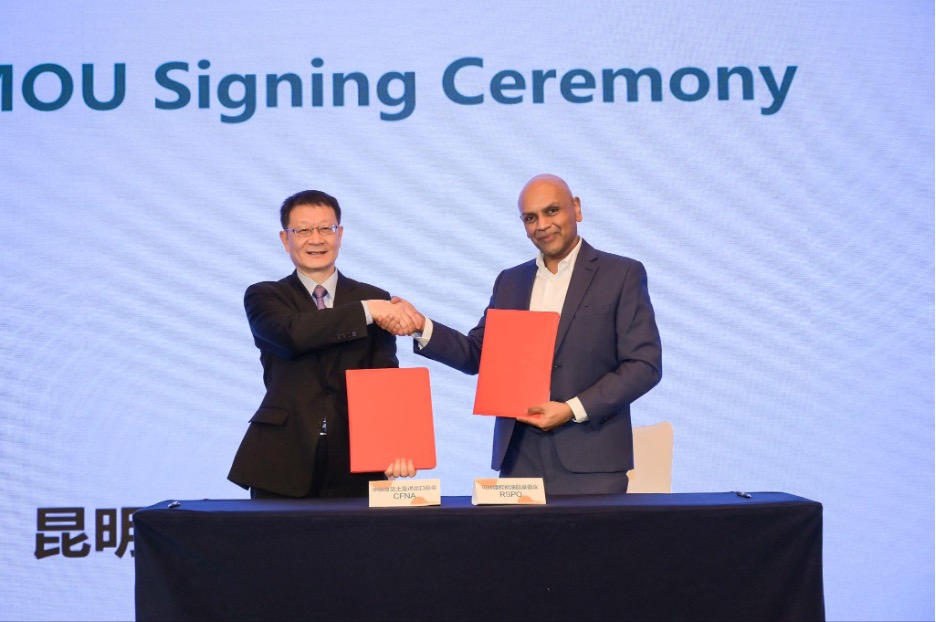 Kunming, China, 26 July 2023: The 2023 China Sustainable Palm Oil Forum, held yesterday at Crowne Plaza Kunming Ancient Dian Town, was a call for greater inclusivity throughout the palm oil supply chain towards the common goal of sustainability.
The event which was jointly organised by the China Chamber of Commerce of Foodstuffs and Native Produce (CFNA) and the Roundtable on Sustainable Palm Oil (RSPO) brought together more than 100 participants from government agencies, traders, processors, manufacturers, retailers, industry associations, social and environmental  organisations and certification bodies.
The forum focused on policies and trends to support sustainable palm oil development in China and abroad, with the aim of  building a green value chain. The forum also addressed the need for more shared responsibility within  the palm oil supply chain, calling for stakeholders, especially RSPO members, to ramp up collective commitment to transform markets and drive sustainable palm oil production and trade. 
The event was also part of CFNA's China International Cereals & Oils Industry Summit 2023, during which the President of CFNA, Cao Derong, and the CEO of RSPO, Joseph D'Cruz (JD), both underscored the importance of sustainable sourcing and the need for a framework to support sustainability-based progress in this sector.
"The Chinese government is increasingly supportive of sustainable sourcing. It is our pleasure to continue our collaboration with RSPO to work with multinationals mapping their supplier chain, and to implement their global policy and targets", said Derong. In addition, he mentioned the China Sustainable Palm Oil Alliance has developed a sustainable palm oil consumption strategy to support the market players in China to conduct sustainable practices.
In his speech, JD said, "Fostering a global green supply chain is a major priority for the palm oil sector. In order to achieve this, RSPO certification should be a default requirement in all business models, government policies, and trade deals. The RSPO is calling for stronger commitment, particularly from downstream players, towards the greening of the global palm oil supply chain by embracing greater shared responsibility. Only then can we, as an industry, effectively drive omarket transformation," he said.
The second part of the forum saw the release of the China Sustainable Palm Oil Case Study. The study identified the significant increase in RSPO supply chain membership in China, which has facilitated China's market transformation while ensuring the integrity of the global sustainable palm oil supply chain. 
Many leading Chinese enterprises, brands, and local manufacturers have taken the first step towards sustainable palm oil transformation driven by their own sustainable development needs, national policies, and ESG (Environmental, Social, and Governance) ratings. They have become RSPO members and plan to develop policies and set procurement targets for sourcing of sustainable palm oil.  Over 20 members have set targets to achieve 100% RSPO certification by 2030.
Currently, the RSPO  has 323 members in China who represent all the key sectors across the palm oil supply chain. According to the study, the supply chain certification model in China is predominantly Mass Balance (around 62%), followed by RSPO Credits (around 25%), with some also adopting the Segregation model (around 10%) and Identity Preserved model (around 3%).
RSPO's Head of China, Fang Lifeng, pointed out that "the progress and critical actions from Chinese members demonstrate the Chinese market's shift towards the sustainable palm oil market. We will expand our partnership to raise awareness and increase the uptake of sustainable palm oil in the region."  
The event also brought together producers, banks, research institutions,  civil societies, and consulting companies to explore  potential areas of cooperation for both upstream and downstream players.
---
About CFNA:
China Chamber of Commerce of Import & Export of Foodstuffs, Native Produce & Animal By-Products (CFNA) was established in September 1988. CFNA works to coordinate and regulate trade, services and related activities in the cereals, oils, foodstuffs, native produce and livestock industry; to carry out consultation, to provide services, and to protect fair competition; to safeguard the legitimate rights and interests of the country, the industry and its members; to maintain the operating order in trade, services and related activities; to prompt member companies to assume social responsibilities; and to promote the healthy development of China's cereals, oils, foodstuffs, native produce and livestock industries. The membership of CFNA has exceeded 4300 companies, andis composed of the large multinational companies and a large number of small and medium-sized enterprises.
About RSPO:
The Roundtable on Sustainable Palm Oil (RSPO) was formed in 2004 with the objective of promoting the growth and use of sustainable oil palm products through credible global standards and engagement of stakeholders. RSPO is a not-for-profit, international, membership organisation that unites stakeholders from the different sectors of the palm oil industry including oil palm producers, palm oil processors or traders, consumer goods manufacturers, retailers, banks and investors, environmental or nature conservation NGOs, and social or developmental NGOs.
This multi-stakeholder representation is mirrored in the governance structure of RSPO such that seats in the Board of Governors, Steering Committees and Working Groups are fairly allocated to each sector. In this way, RSPO lives out the philosophy of the "roundtable" by giving equal rights to each stakeholder group, facilitating traditionally adversarial stakeholders in working together to reach decisions by consensus, and achieving RSPO's shared vision of making sustainable palm oil the norm.
The seat of the association is in Zurich, Switzerland, while the secretariat is currently based in Kuala Lumpur with satellite offices in Jakarta, London, Zoetermeer, Beijing, Bogotá and New York.
For further information, kindly contact:
Xiao LIU 刘  晓




Stakeholder Engagement Manager, China




+86 186-010-096170

Zeeneeshri Ramadass
APAC Communications Manager

+6017-6571527